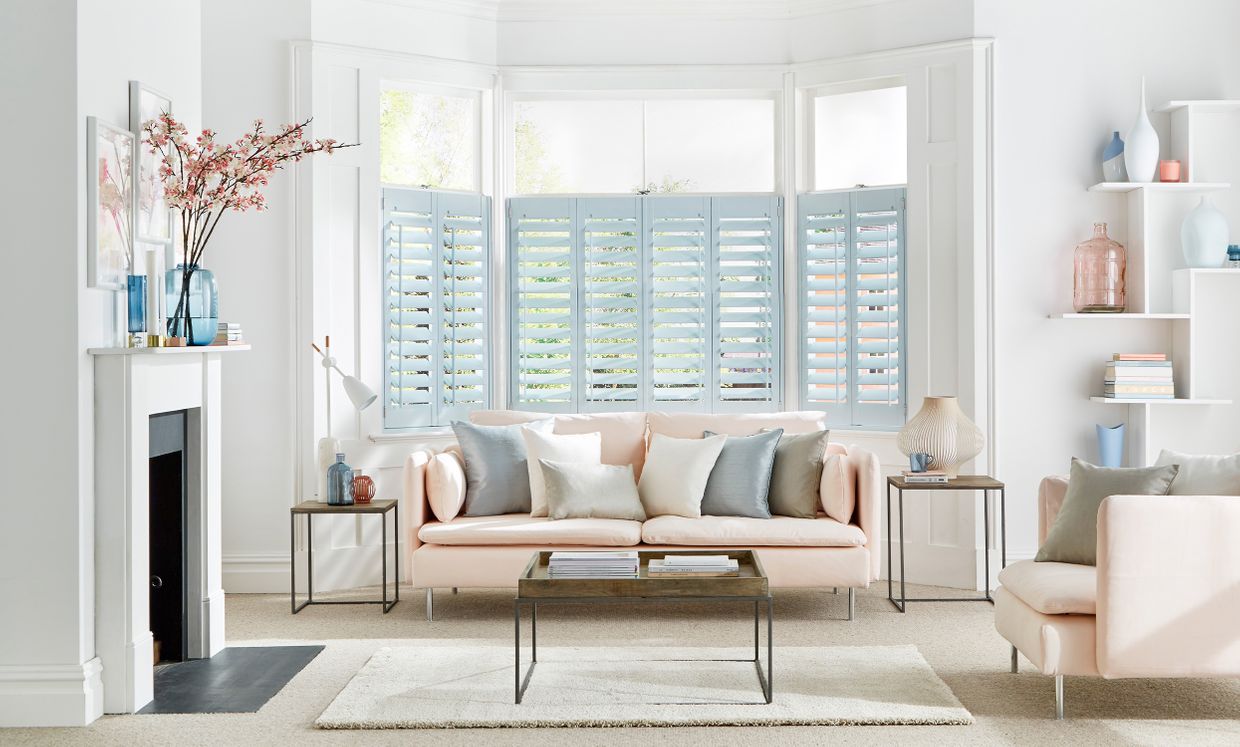 Tips, advice and finishing touches for shutters
"Shutters look great and are a practical choice for windows in every room," says Mark Lucas, our product manager who has more than 20 years' experience. Here are his tips for helping you get the most from yours.
Are shutters suitable for a bathroom or a wetroom?
Our specialist waterproof shutters are designed especially for rooms with high levels of moisture and humidity – such as bathrooms, wetrooms and kitchens. Made from waterproof ABS, they hold their shape and colour in warm, damp conditions.
Are shutters suitable for shaped or bay windows?
Because all of our shutters are made-to-measure, we can craft and fit them to your specific window shape and size, making them ideal for most spaces – including bay windows and shaped windows.
Are shutters available in lots of colours?

Our shutters are available in huge range of colours and finishes – from natural wood stained to painted white and pastel shades. Plus, you can use our custom colour service to match your shutters to your favourite colour.
Custom colour isn't available on our waterproof shutters, as they are made from ABS and cannot be painted. However, the range includes a wide selection of colours including whites, greys and neutral shades.
Can you fit shutters to patio or bifold doors?

Most of our shutters can be fitted at patio or French doors, although we recommend Full height Shutters.
For bifold doors, sliding doors and other wide expanses of glass, we recommend tracked shutters. These clever shutters are made up of panels that run along a floor track and concertina shut.
Are shutters good for light and privacy control?

All of our shutters give you great control over light and privacy. Plantation-style shutters have adjustable louvres that you can tilt to maximise or minimise both light levels and privacy.
For a super flexible solution, tier-on-tier shutters have top and bottom sections which open independently, giving you the flexibility to decide where you want light and privacy the most.
Alternatively, café-style shutters fix to just the bottom half of your window, allowing the light to come into your room from the top.

Solid shutters are perfect for bedrooms, as they're superb at blocking out external light and noises, making your bedroom totally sleep-friendly.
Are shutters child-friendly?
Shutters are a great choice for a child's bedroom or nursery, as the classic look will stand the test of time while your little one grows up and their room is redecorated.
Shutters are also good for reducing light and noise levels, helping them to sleep soundly and avoid early morning wake up calls.
What's more, shutters are inherently safe, because they feature no operating cords or chains.
What louvre width should I go for?

You can choose from five different louvre widths for your shutters. During your appointment, your advisor will let you see each of them to help you choose the best option for your window.
As a general rule, thinner slats look better on smaller windows, while wider slats are ideal for bigger windows.
Do you offer a choice of hinges?
You can choose from eight different hinge colours for your shutters. So you're sure to find the one that goes perfectly.
What finishing touches can I choose from?
You've a range of finishing touches to pick from, including doorknobs, ring pulls and tilt rods. Your advisor will bring the whole collection to your appointment so you can find your favourites.