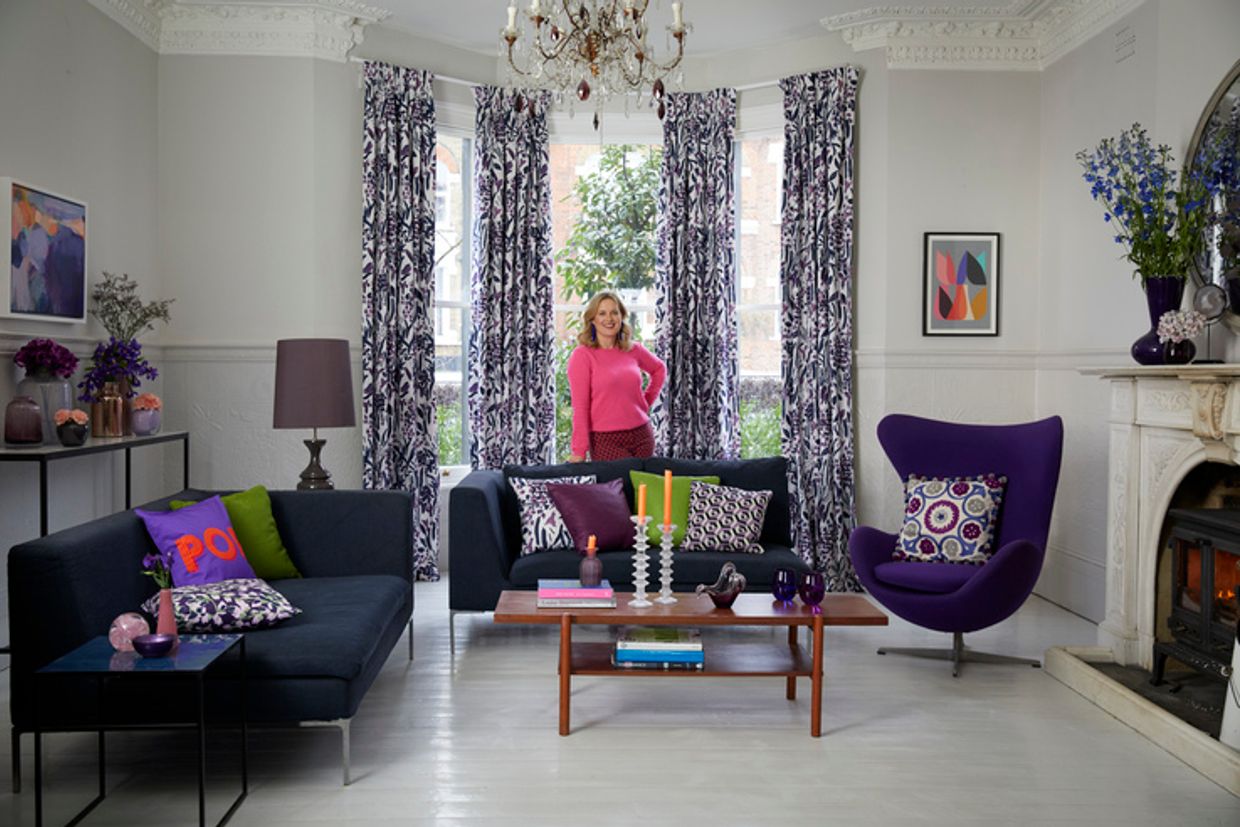 Get the look with Pantone Ultra Violet
Hot on the heels of Pantone's  much-anticipated Colour Of the year 2018 announcement, Interior designer and TV presenter Sophie Robinson shows us how to style our homes with Ultra Violet, the most talked about shade in town. 
Purple power
Lots of people are rather daunted by the colour purple. But used with confidence, Ultra Violet can help you create an exciting and original interior. Sophie is definitely a fan and says: "I love its intensity and vibrancy. For me it's a really uplifting, feel-good colour and I can't wait to see it popping up in all the best dressed interiors." Sophie chose a curtain fabric that she felt captured the sense of individuality and artistic expression that Pantone's Ultra Violet conveys. Sorana Violet is a striking painterly floral print that pops with a combination of deep indigo and Ultra Violet accents set on a bright white background.
Break the rules
In describing the intrinsic qualities of this vibrant purple shade, colour experts at Pantone talk about its prevalence in counterculture, often associated with iconic music artists and performers. There is certainly a touch of the rebel in this hue and Sophie was keen to tap into this edgy feel. To create a sense of drama within the room, Sophie dressed the feature bay window with four individual curtains, breaking up the space and making sure that the curtains are front and centre within the room. Sophie talks about the opportunities that a bay window presents. She says: "Bay windows are an absolute dream. Celebrate them by having four curtains instead of two for a dramatic effect".
Playful palette
The great thing about Ultra Violet is that it can hold its own with a diverse range of colours. It can act as a dark foil for acid brights, a cool partner for hot hues and a safe anchor for delicate pastels. Sophie has played with all of these colour combinations in her scheme, incorporating blousy floral displays in complementary shades of lilac, coral, rose and indigo, and throwing in fresh pops of neon pink and acid green with a mix of contemporary and retro cushions. Peachy candles, sunset-inspired abstract art prints and warm copper accessories turn up the temperature to create delightful design hot spots. 
Unexpected combinations
Don't be tempted to simply paint a feature wall in Ultra Violet and leave it at that. Instead, keep your walls neutral and let the soft furnishings do the design work for you. Experiment with texture, colour and pattern to create a scheme that's uniquely yours. Sophie warns against too much synergy in a room. She tells us: "Avoid going all matchy matchy and instead mix florals with geometrics to give a more interesting look. Always do something unexpected which for me was the pop of neon in the cushion and the candles".
Browse cushions and accessories