Glamorous and luxurious, velvet curtains and Roman blinds combine tactile softness with a unique textured appearance that creates a chic and cosy effect at your window.  Take a look at the gorgeous velvet and chenille fabrics in our collection and find the perfect look for your home.
Abigail Ahern collection velvets
Dark, decadent and effortlessly cool, the Abigail Ahern collection is rich with printed and textured velvets in Abigail's signature bottom-of-the-lake hues. Tribal prints, faux-skins and fade-out textures are all given the luxe treatment in a selection of velvet fabrics that are incredibly stylish and insatiably soft.
Browse Abigail Ahern collection
House Beautiful collection velvets
Infusions of caramel, chai and peachy pinks are taking up residence in our homes this season, bringing welcome warmth to our neutral palettes. Enhance these dreamy hues with super soft textiles like these gorgeous Mirage curtains from our House Beautiful collection. A subtle wash of deep mocha printed over a creamy base creates a deliciously soft finish to your décor. The calming colour is also Dulux's Colour of the Year 2019, Spiced Honey.
Browse velvet curtains
Fascination
This velvety soft fabric has a slubbed effect, creating an intruiging fade-out finish that's equally at home in a sophisticated scheme as it is in a relaxed and informal décor. For a luxe look, choose this stunning Fascination Ochre shade and turn up the glamour stakes with accessories in gold, copper and brass. Or for a more understated approach, choose a cool neutral, such as Fascination Silver and mix with fade-out prints and cosy woollens for a wrapped up feel.
Lyon
With a choice of gorgeous shades to choose from, this super soft and tactile chenille fabric is sure to grace any home. In this light and airy hallway, we've chosen a fresh and fruity Lyon Apple Roman blind to lend a pop of zingy colour to the neutral scheme. For extra snugness choose a thermal lining for your Roman blind or curtains.
Browse Roman blinds
Mindoro
If you want to add a hint of pattern into your décor, this fabulous Mindoro Opal print has it all. The tribal-style pattern is printed onto a neutral background, creating the appearance of crushed velvet which has faded over time, lending the fabric a wonderful vintage look.  We've accentuated the shabby chic feel in this gorgeous bedroom with painted floorboards and vintage French furniture. A creamy deep pile rug and cashmere throw add a feeling of luxurious softness and warmth.
Mineral
Our exclusive House Beautiful collection, Origins takes its inspiration from the natural world, and Mineral Chalk is a wonderfully soft slubbed velvet-look fabric that features  blush-coloured chalky flecks on a creamy base. The delicate colour adds a soft warmth to this beautiful  fabric, helping you create serene spaces that feel naturally calming and restful.  In this boutique bedroom we've teamed Mineral Chalk Roman blinds with Bamboo Linen curtains for a stylish and cosy finish.
Browse curtains
You may also like...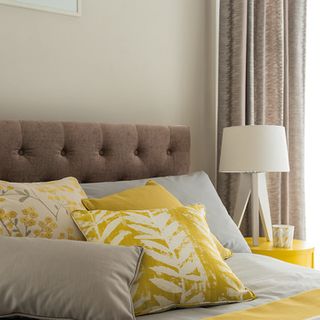 We talk you through the options and show you some of the best bedroom ideas for your home.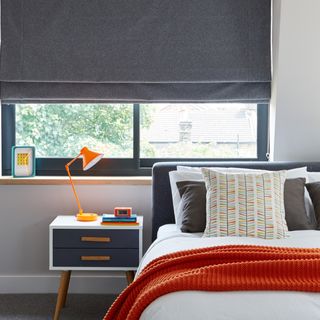 Get the look with plain & textured curtains & Roman blinds from our new collection. Browse fabrics in gorgeous faux-silk, velvet, chenille, linen-look and more.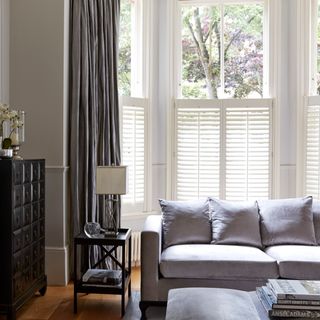 Our latest article looks at the benefits of layering window dressings for maximum style and performance.