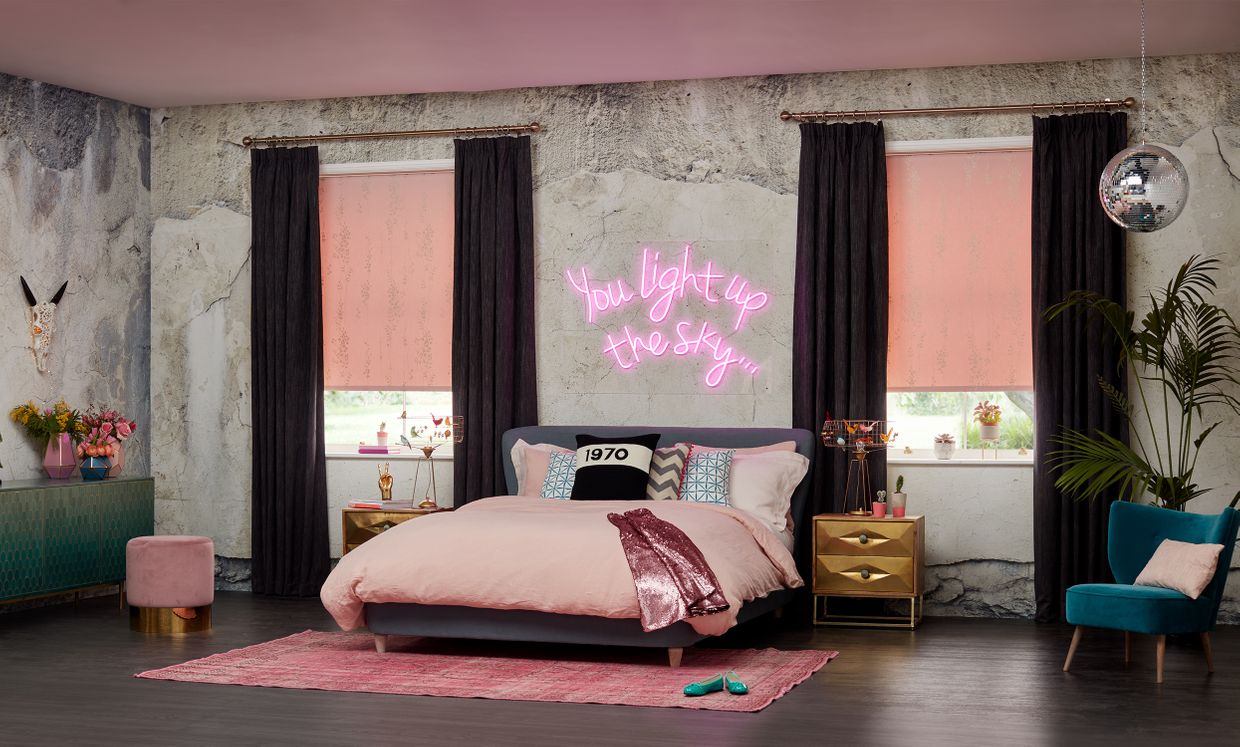 More Colour Clash looks
from our collection
Our fabulous range of curtains and Roman blinds has hundreds of gorgeous patterns and vibrant shades to help you create a uniquely colourful look in your home. Here we show you how to create high-impact Colour Clash looks for every room in the home.
Compact impact
Colour Clash is a fantastic style for making the most of small or narrow windows. In this understated living room we've injected a slice of playful colour with a ditsy floral Roman blind. The bold fuchsia and salmon hues in this Blossom Raspberry fabric pop out against the dark background, while the teal leaf detail complements the wall shade to a tee.  Cushion covers in complementary fabrics pull the whole scheme together for a warm and cosy feel.
Browse our Roman blinds collection
Personality packed
If you love bringing home mementos from your travels, Colour Clash is a perfect foil for your exotic finds. A bright sombrero and handcrafted pottery is the inspiration behind this South American styled kitchen-diner. The carnival theme is carried through with a gorgeous Festival Pink Roman blind. The bold watercolour print conveys a sense of bustle and energy that's perfectly in tune with the spirit of South America.
Casual Colour
Although it seems unlikely, you can create a Colour Clash look that's comfortably casual. We've dressed the patio doors in this laid-back dining room with full-length floral curtains in Ester Cranberry.  This colourful floral print is packed with a whole garden of posies in bright shades of red, yellow and blue in a style that's heavily influenced by Scandinavian design. So, we've dialled down the clashing colours and dialled up the Scandinavian aesthetic with warm wood flooring, dining table and chairs to lend a natural simplicity to the scheme. However, don't let that stop you from experimenting with bold shades for your accessories and table settings.
Browse our curtains collection
Souk it up
Even serious spaces can have a little fun with Colour Clash, as this stunning home office shows. The regularity of the pattern on this beautiful Souk Spice Roman blind gives a feeling of structure and formality, while at the same time imbuing the space with a burst of bold colour and pattern that keeps the whole look exciting and fresh.