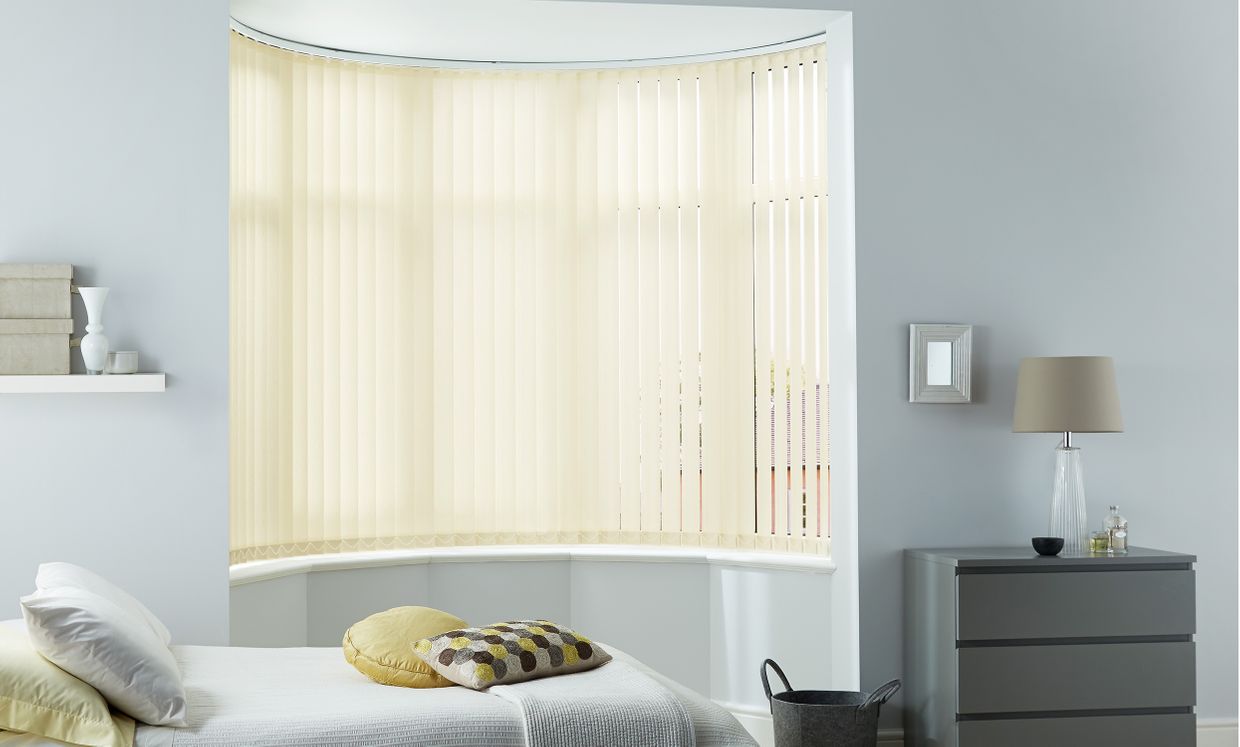 How to dress bay windows with Vertical blinds
Vertical blinds are a great choice for curved bay windows as they are so versatile and practical. And with such a wide range of colours, prints and textures to choose from, Vertical blinds give you lots of style options too. 
Read our expert guide and discover why Vertical blinds are so perfectly suited to beautiful bay and box windows.
Vertical blinds for curved bay windows

If you have a curved bay window, your Vertical blind can be fitted to a flexible track which follows the curve of the bay. This gives you a lovely smooth finish that sits neatly within your window. In this contemporary dining room we've chosen a gorgeous Fleck Seashell Vertical blind. The tiny golden flecks catch the sun's rays, bathing your room in a lovely light glow.
Vertical blinds for square bay windows

Vertical blinds are great for square bay and box style windows too. Your sales advisor will be able to guide you through the best configuration for your window, although the favourite option for square bay windows is to fit separate blinds to each pane of glass. This looks neat and sleek and also allows you to operate each blind independently, so you can effectively manage the light levels in your room.  In this lovely living room we've used a textured Vesper Light Pink Vertical blind to complement the cool decor.
Vertical blind fabric choices

Wherever your bay window is situated within your home, you can tailor your Vertical blind to perfectly suit the environment. Choose wipe-able, flame retardant fabrics for kitchen windows and moisture-resistant, durable PVC fabrics for bathrooms and wet rooms. Living room bay windows will benefit from our light reflective and glare reduction options, while blackout fabrics are perfect for bedrooms. In this contemporary scheme, the stylish Tweed Wheat Vertical blind adds a golden accent to the palette.