Coastal kitsch meets submariner style as the nautical trend goes below deck to find its inspiration. Heavy metals and upcycled scrap materials contrast with jolly boating motifs and seaside stripes for a darkly sensual twist on traditional coastal styling. 
Get the look
Traditional coastal themes are given an edgy twist in this contemporary trend. The look artfully combines nautical whimsy with an engine room aesthetic in a joyful celebration of our seafaring past. Upcycled, beachcombed and reclaimed materials sit harmoniously alongside luxurious fabrics and precious metals, creating an intriguing tension of textures and visual treats.    
Choose stormy shades
Seaside stripes reflect the darker elements of the seascape, featuring blustery greys, muddy browns and stormy blue accents. Re-purpose bleached and distressed floorboards as wallcoverings to create your own rustic beach hut. Wire frame chairs and metal tables add to the utilitarian feel. We've used Anouk Dusk and Stewart Charcoal Roman blinds to transform these small spaces into stunning seating areas.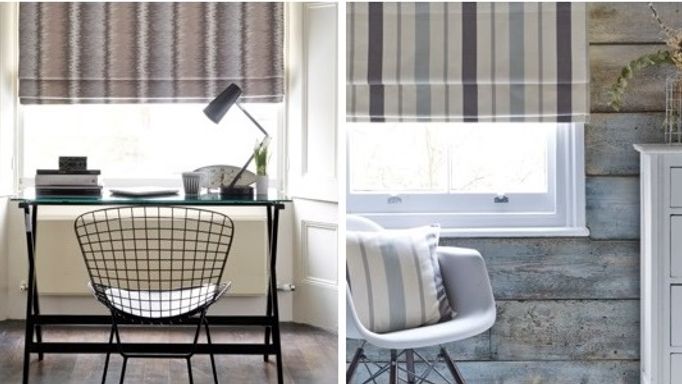 View Roman blinds
Include industrial elements
This trend embraces galley style kitchens and dining areas. Create an easy sociable space with an old farmhouse dining table and simple wooden seating. Bare bulb, industrial style pendant lights add to the functional feel of this informal scheme. We've chosen a ditsy Daisy Pistachio print for the windows to create contrast and give the room a nostalgic seaside feel.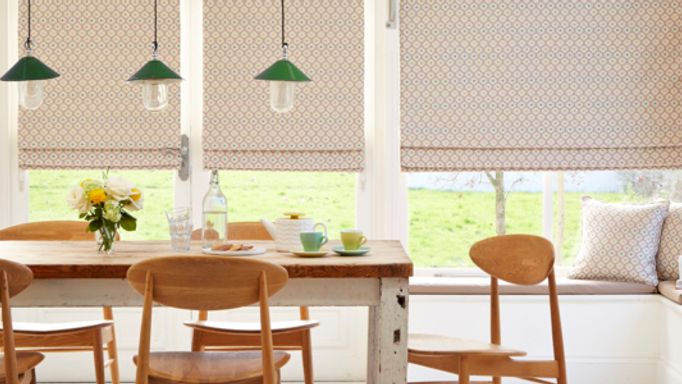 View Roman blinds
Upcycle reclaimed materials
Crab pots, driftwood and reclaimed boat fixtures and fittings all have a place in this eclectic look. This simple bedroom scheme includes an upcycled metal bedstead and driftwood storage ladder. The functional styling is softened with luxurious faux-silk cushions and a warm woollen throw featuring puddles of rock pool hues.  A Melia Mineral Roller blind completes the look.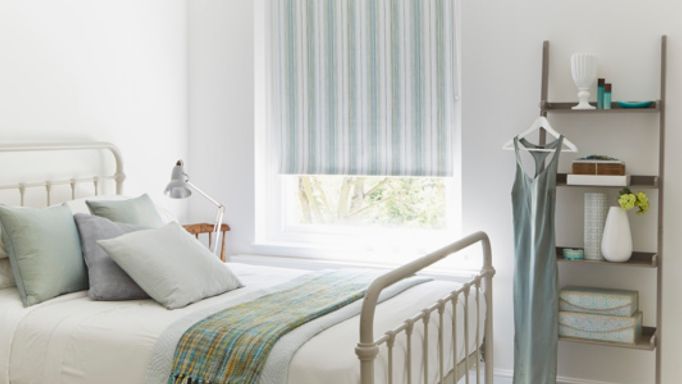 View Roller blinds
Add precious metals
Transform a traditional New England scheme into a luxe haven by mixing in precious metals and luxurious fabrics. The textured faux-silk cushions and bedside lamp add a touch of sophistication to an otherwise blank canvas. To add balance we included a porthole mirror in a matt silver finish and chose a dark shade of pewter from our custom colour range for the stylish painted wooden shutters. The overall effect is decadent and dramatic.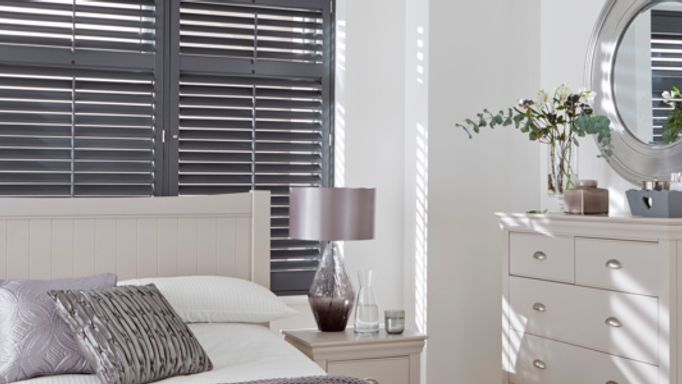 View Wooden blinds

Use bold statement pieces
The bathroom is the perfect space to let your imagination run wild and create a stunning showpiece with bathroom blinds.  A freestanding stone resin bath sails majestically on the smooth polished floor, passing a stunning mosaic seascape under a deep aquamarine sky.  The  panoramic horizon is obscured by large Vertical blinds which gently filter the sunlight (and protect your modesty) like stately sails billowing in the breeze.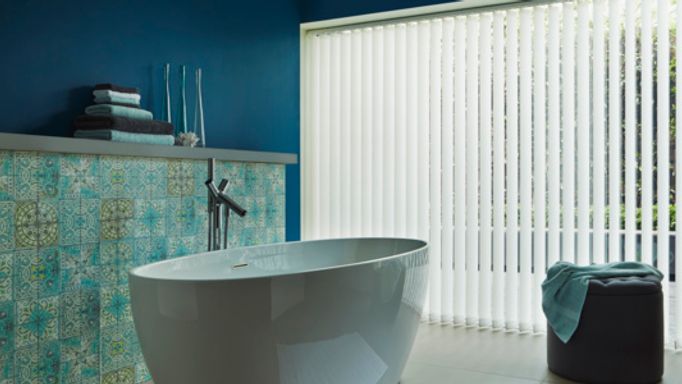 View Vertical blinds
You might also be interested in…