Last week I confessed to being a Wimbledon fan and even suggested a décor theme inspired by the tournament that would continue to look great in your home after it was finished. Since then there have been a couple of shocks and this year's final is set to be an exciting one after some big names were knocked out of the competition early on.
If you're looking to give your room a new look this summer, but my strawberries and cream colour scheme was a little feminine for your tastes, then how about embracing one of the tournament's other traditions instead? The 'predominantly white' dress code was first enforced in 1963, but players started wearing the shade as far back as the 1880s.
White is also a popular choice for interiors as it has a classic and timeless appeal. White walls provide you with a blank canvas to let your furniture and accessories do the talking, while white marble effect tiles on your floor have a luxurious style. The colour is the ideal partner to a monochrome or minimalistic design scheme, but can also be coupled with bold tones to provide a striking contrast.
In our living room, we paired bright aqua walls with crisp white Roller blinds at the windows. We decided on a patterned design to draw the eye and create a sense of interest, but you could plump for a plain fabric for a simply stylish effect. The pretty print - called Elsham Ice White - features a delicate seed head design. Botanical patterns are bang on trend this season and provide a contemporary update on more traditional floral motifs.
To complete the natural look and bring a hint of the great outdoors to our room, we picked out lovely leaf print pictures to decorate the walls and put these in weathered white frames. We wanted to create an eclectic impression, so collected various vintage vases and filled these with wildflowers - and even seed heads like those in our chosen fabric - to provide the perfect finishing touch.
You might also be interested in…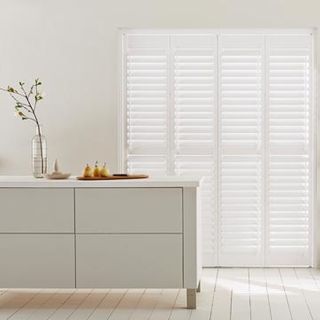 How white window dressings can be the hero of your interior scheme.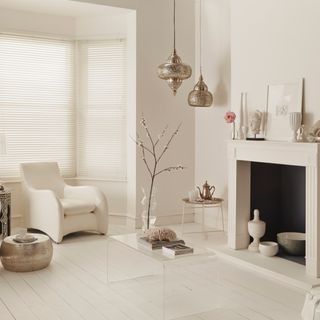 Here we show you how to use a range of shapes, tones and textures to add depth and interest to an all-white room.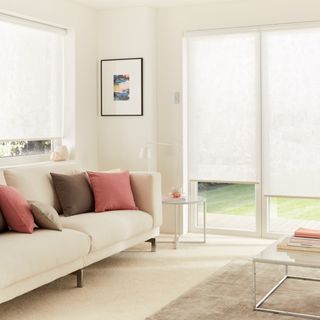 In this article we tackle the challenges of this every day colour.