Last month saw the arrival of our new range of Roman blind fabrics. And here at Hillarys that's very exciting news indeed! Here's my top ten list of why we love Romans so much.
 1. Roman blinds are made from soft, fully-lined fabrics for a luxurious appearance at your windows. They're the most indulgent style of blind we make.
 2. The range of fabrics we offer embraces all the latest fashions – from bold stripes to delicate florals and of course, all the current must-have colour options. Perfect for making a statement at your windows.
 3. Neutral fabrics in all kinds of interesting textures such as faux silk, suede and linen effect, chenille and subtle woven designs provide a subtle backdrop to a laid back room.
 4. Considering Roman blinds for your bedroom? A blackout lining is available to help reduce the light coming into your room for the best night's sleep.
 5. All our Roman blinds are lined, which helps keep draughts at bay. But if this is a real concern, opt for our thermal interlining, which also gives an attractive padded finish to your blinds.
 6. Roman blinds bring simple style to any window and are just at home in a contemporary setting as a traditional, period property.
 7. Curtains, in co-ordinating or contrasting fabrics from the same range, are available if you want to create a fashionable layered look at your windows. Great for extra cosiness too!
 8. Matching cushions are available for a co-ordinated approach to your interior décor scheme.
 9. Our Hillarys Kids range includes cute animal and pretty bunting designs. Perfect for any child's bedroom.
 10. Roman blinds give us the chance to offer some great Rome inspired prizes as part of our latest competition. Fancy a weekend trip for two to Rome? Dinner for two at Carluccio's? Or a blind for your home from our new range of Romans? Then visit Hillarys facebook page now for your chance to win.
You might also be interested in…
Our House Beautiful fabrics reference historical patterns and heritage craft techniques.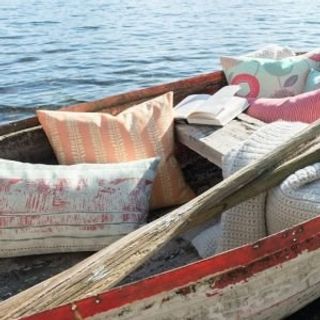 Take a look at the warm hues in our Scandinavian-inspired Natur Collection of Roman blinds and curtains.