Where In The UK Has The Most Firework Complaints?
A Freedom of Information request carried out by the team at Hillarys has revealed that Bolton Council has received the most complaints about fireworks over the last three years, more than any other area of the UK outside of London. 
The team ran the request for data in a bid to highlight the most and least firework-friendly locations across the UK in the lead up to the festive season, especially New Years' celebrations.
Of the 42 councils that responded, it was revealed that there have been 1305 complaints to local councils within the past three years in relation to fireworks; 937 of those were noise complaints, 442 were light complaints and 338 were general complaints.
London did, of course, top the list with all boroughs combined totalling as many as 698 complaints made to the local councils relating to fireworks over the last three years. Bolton Council came in second, with 250 firework noise and light complaints since 2018 – the highest outside of the capital city.
The top five areas with the most noted firework complaints in the last three years are as follows:
All London Boroughs – 698

Bolton – 250

Bradford – 130

Leicester – 118

Birmingham – 107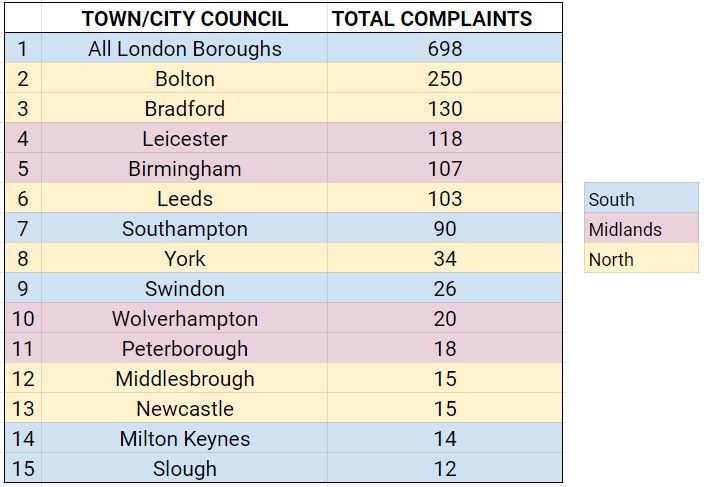 Out of the 42 councils across the UK that replied to the request for information, it was found that Cambridge City Council received the least complaints – with only one noise issue raised in 2018.
Of the top 15 areas with the most complaints, six of the locations were in the North of the UK, with five in the South and four in the Midlands.