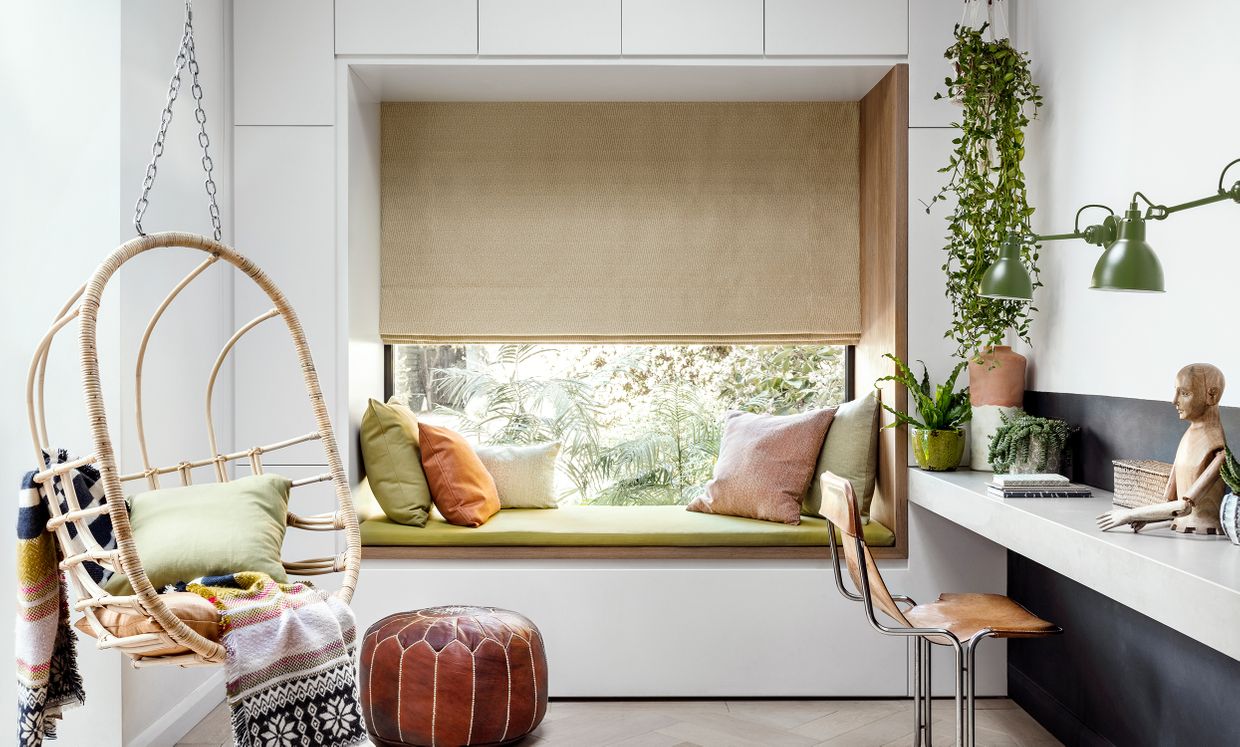 Window dressings for feature windows
Distinguishable home interiors
Round, arched, bow and bay windows are wonderful features, but when it comes to measuring and fitting window dressings for non-standard shaped windows, many of us are unsure where to start.
As the experts in window dressings, every day our local advisors are helping customers choose made-to-measure window dressings that will perfectly fit any size or shape of window. So read our advice on choosing the right product for your challenging windows and trust the experts to take the pain out of your feature panes.
Bay and bow windows

Lots of homes in the UK come with a feature bay or bow window, and most styles of window dressings can be made to fit these windows perfectly. If you have a curved or square bay window, Vertical blinds and curtains can be fitted to a single shaped track for a sleek and smooth finish.
Other blind types look their best when fitted to individual panes within your bay. Your advisor will be able to guide you on the best configuration for your window and individual requirements. And if you choose Roller blinds for your bay, optional motorised controls are available, so you can operate your blinds quickly and easily with the touch of a button. 
Or, if you've got your heart set on shutters, our specialist advisors will carry out a detailed technical survey to make sure that your made-to-measure shutters fit your bay window like a glove.
Wide windows
Wide windows give you a wonderful vista onto the outside world, but they can also present challenges when it comes to controlling light levels and temperature. By dressing your wide windows, you can reduce glare and maintain a comfortable year-round temperature, as well as enhancing this stunning feature in your home.
Curtains, blinds and shutters are all perfectly suited to wide windows. However, there may be some restrictions on the maximum width that some made-to-measure window dressings will fit. Your advisor will be able to tell you which styles are best suited to your window.  
Whichever style, colour or design you choose will have an enormous impact on the overall look of your room, so you need to choose a style that you'll love to look at and live with every day. With our clever visualisation tool we can show you exactly what each design will look like at your own window, so you can be confident you're making the right decision.
Patio and bi-fold doors
For patio doors in living rooms, dining rooms and bedrooms, curtains are an ideal window dressing. There are hundreds of gorgeous styles, prints and colours to choose from and they'll give your room a really warm and welcoming feel.
If your patio doors are in the kitchen, you'll need a practical window dressing that's suitable for this busy area.  Roller blinds and Vertical blinds come in a range of performance fabrics, including moisture-resistant, flame-retardant and wipe-clean options - so you know they'll stand up to the hustle and bustle of daily life.
And if you need to use your patio doors frequently, our Perfect Fit blinds are ideal. Perfect Fit blinds sit neatly within your uPVC window frame, giving you a sleek finish and allowing you to open and close your doors really easily. Pleated, Roller and Venetian blinds can all be fitted into a Perfect Fit frame.
Shaped windows
Round, arched and non-standard shaped windows are impressive architectural features but how do you find a window dressing to fit these unusual shapes? Luckily, we have the know-how to help. Our classic wooden shutters can be made to fit windows of virtually any shape or size.
And with our custom colour service, you can match the colour of your painted shutters to almost any shade, so your gorgeous feature windows can play a major role in your interior design plans.
Sloping windows

If your property is built on a sloping site or your room is built into the eaves of your roof, your windows may be shaped to accommodate the slope. This can be a challenge for most types of window dressings, but not for Vertical blinds. That's because we can cut the individual louvres to different lengths so that they fit sloping windows perfectly, giving you a look that's totally seamless.
Skylights

Contemporary extensions and loft conversions often include feature skylights that allow plenty of light to filter in through the roof space. However, unwanted light, particularly in the summer months, can be a nuisance, especially in loft bedrooms. We've got lots of great solutions for skylight and velux windows which not only look neat and sleek, but are also available in performance fabrics, including blackout.
Conservatory Roof windows
Our specialist advisors can even help you find the perfect conservatory blinds for the most complex conservatory roof configurations. Not only will we measure and professionally fit your roof blinds, but we can also offer you a range of innovative fabrics that will help you to maintain a comfortable temperature all year round. You can even choose motorised controls to help you open and close your heard-to-reach conservatory roof blinds with ease.
You might also be interested in…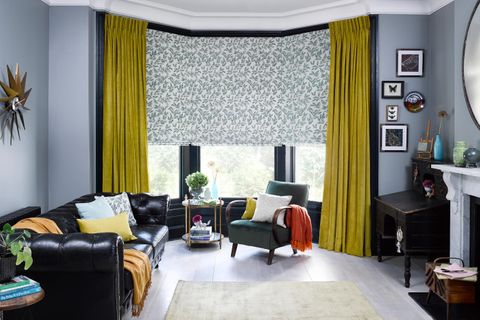 We share our top tips on how to get bay windows just right.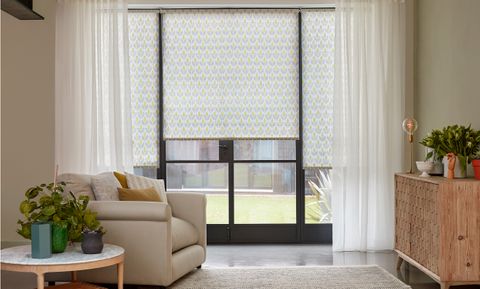 Choose a window dressing that best suits the style and function of your French doors.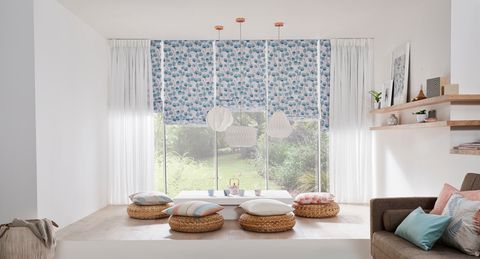 Top tips and clever tricks for dressing your wide windows and doors