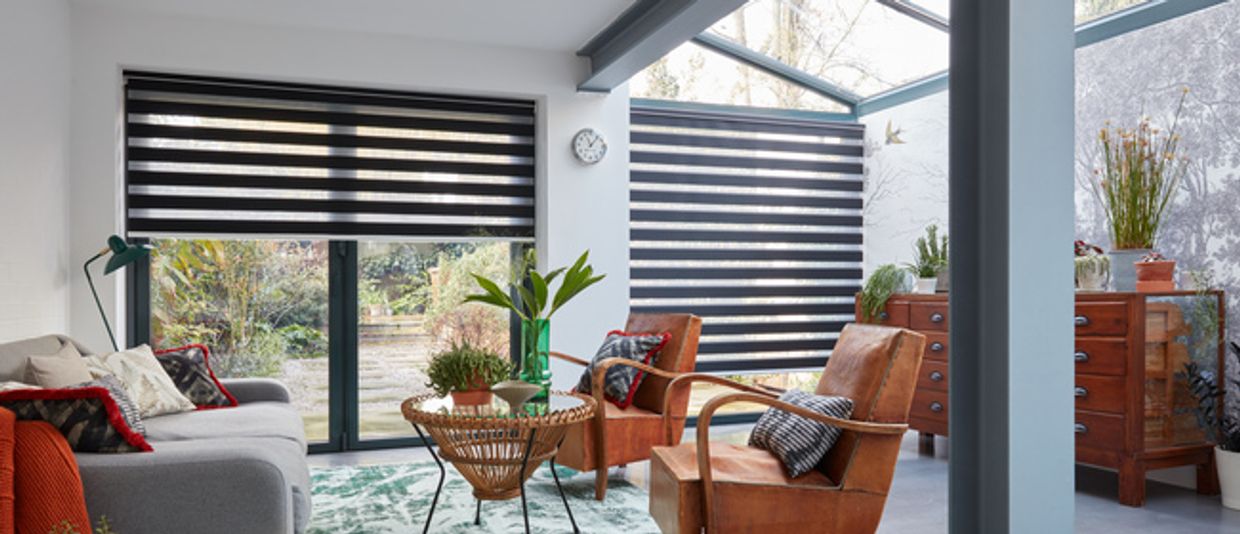 A Complete Guide to the Best Conservatory Blinds
To help you navigate the options for your conservatory, and to provide a little inspiration, we've written this handy conservatory blinds guide. We'll take you through a range of different blind types and explain the specific benefits of each. Read on to find the perfect match for your space and transform your conservatory today.
Pleated blinds: an innovative choice
We love how conservatories flood our homes with natural light, but the temperature can become uncomfortable and the light can become a nuisance. Our clever Trilite™ Top-Down, Bottom-Up Pleated blinds allow you to open your blinds from the bottom up, which is ideal for protecting your privacy and preventing glare. Transition blinds are another solution which offers unique ways to control the light and change your look with your mood, they are two fabrics within one blind and give you greater control over the lighting and privacy. You can opt for a combination of two different fabrics, increasing the possible looks you can go for. Have either one covering the windows or a bit of both for a luxurious look – perfect if you're finding it hard to choose.  We've statement shades and lovely neutrals, or you can be more practical and combine a sheer fabric for daytime privacy, with a blackout for evening bliss. 
For uPVC windows, a PerfectFit frame provides a neat look and clips into place without the need for drilling. These blinds give you a streamlined, fuss-free finish and are available with Venetian blinds and Roller and Pleated blind fabrics.
Roof Blinds
If you have a large roof, it is worth considering motorised blinds. Our MotoPleat™ roof blinds take the hassle out of opening and closing hard to reach blinds. Clever performance fabrics can help maintain a comfortable temperature, which makes them a perfect choice for conservatories. SolarPleat™ fabrics will reflect the sun, while our ThermaShade™ design, which has been designed with heat saving properties in mind. The honeycomb fabric traps a layer of air, forming a layer of insulation which helps regulate temperatures all year round, cooling the conservatory in the summer and keeping it warm in winter.
Vertical blinds: light control for large windows
If your conservatory has floor-to-ceiling windows, then Vertical blinds are a fantastic choice. They are a great way to cover large expanses of glass and offer fingertip control over light. Simply tilt the panels to let light in whilst  protecting your privacy, or slide them open to enjoy the view. Much like our Rollers, you'll find lots of stylish options for this style of blind, including colourful plains, tactile textures and pretty prints.
Faux Wood blinds: the natural look of wood
To add character to your conservatory, consider Faux Wood blinds. They have a gorgeous wood-effect finish and come in a variety of natural and painted shades. They benefit from being moisture-resistant and, unlike real wood, they won't be affected by the hot sun. If you like a slatted blind, but want to add a splash of colour, we also have a range of metal Venetian blinds that work in the same way as Wooden blinds.
Wood Illusion Venetian blinds create a clean, modern look. Finish with tape for a more luxurious feel. The chunky 50mm wide slats will let the light flood in and provide you with a better view of your garden. If privacy is important, choose a narrower slat instead.
Roman blinds: create cosy spaces
Roman blinds will give your conservatory a cosy feel. They are easy to use and can be adjusted to meet your needs: simply lower to block the sun's glare, or open fully to see the outside world. If your conservatory is a little draughty, consider choosing Roman blinds with curtains as this will prevent chills from getting in and help you to maintain a comfortable temperature.
Of course, it's not just practical features we're worried about when we're choosing for our home, a Roman blind can help to make the space feel like your own. Give your space personality with a statement fabric, or opt for a classic neutral.
Perfect Fit blinds: for a perfectly streamlined finish
There's nothing more satisfying than throwing open your conservatory windows on a hot summer's day and with our Perfect Fit blinds it couldn't be easier. PerfectFit blinds can be fitted into uPVC windows: they clip into the beading of your uPVC windows to sit snugly within the frame. Fixed firmly in place, with no drilling or control cords required, these blinds give you a streamlined, fuss-free finish. Perfect Fit blinds are available with Roller blind, Venetian blind and Pleated blind fabrics.