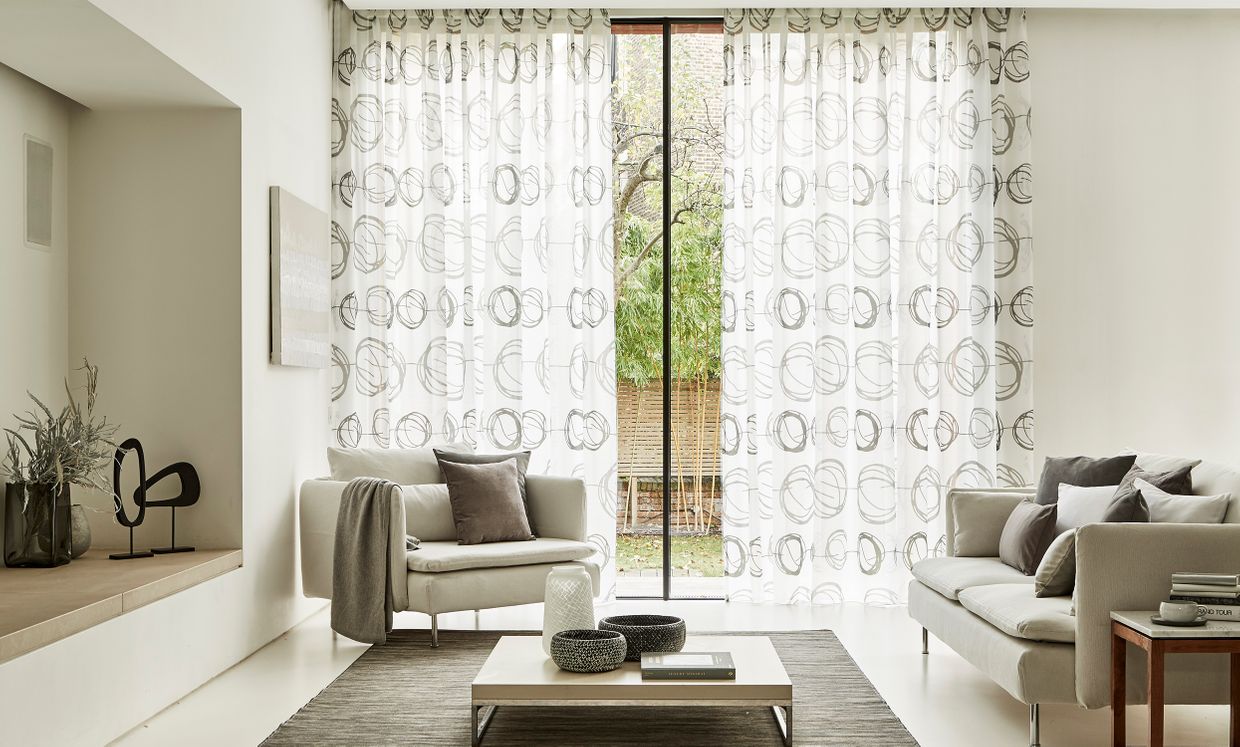 Say goodbye to old-fashioned net curtains
with these modern alternatives
New is always exciting. That's why we're pleased to introduce our new Roller blinds collection. It's bursting with ideas to help transform your windows and doors, and in this series of articles we'll take a closer look at some of the ways you can use them in your home.
Net curtains are useful for providing an extra layer of privacy at the window, especially during the day. But with many of us considering them outdated, we're often asked for modern ways to provide that same effect. Our new shiny Roller blinds range includes a fantastic selection of new ideas to protect your modesty.
We've given lace the Roller blind treatment. Our Eltringham White fabric is a more modern alternative to traditional net curtains. Perfect for overlooked rooms, layer with sumptuous curtains to help take the look from day to night.

The attractive design of our Kimi White fabric is oh-so-clever, featuring a classic damask design cleverly made from small holes which allow ample light to flood into the room, while still maintaining your privacy. We'd layer with statement curtains featuring a blackout lining for the perfect bedroom look.

A 'burnout' fabric is one that has undergone a chemical transformation to dissolve some of the fibres, creating a semi-transparent pattern. This makes them a fantastic alternative to nets, as the blind adds privacy yet still allows light through. Our Gossamer White fabric features a pretty botanical design using this technique.

Of course, if you're looking to inject a little colour into your home, burnout fabrics are also available in striking shades. Our Kinsley Bijoux Roller blind will keep peeping eyes out during the day, and will also cast an attractive colour-play design onto your walls for added interest.

Finally, if you'd like a little more protection at the window, opt for a white Roller blind in a non-sheer fabric. The light shade will still allow some light to filter through, creating a lovely glow at the window. Our Candra Kiwi Crush blind features a stylish mark-making pattern in green for added interest.