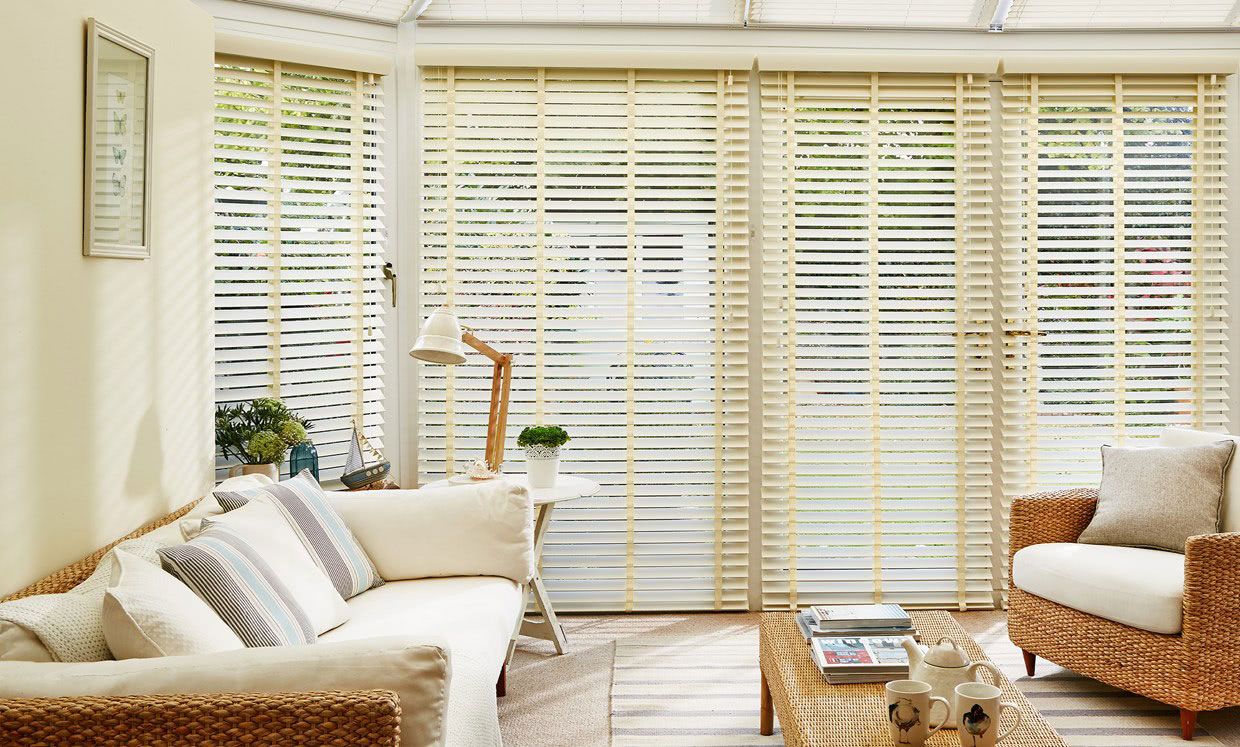 Tips for choosing the perfect conservatory blinds
Tips for choosing the perfect conservatory blinds
Advice from the experts in conservatory blinds
Mark Lucas, our conservatory blinds expert has listed here, all the essential advice you'll need to find the perfect conservatory blinds for creating an enjoyable, year-round space. 
For more detailed advice, you should book an in-home appointment with one of our expert advisors.
Choose reflective products to control the heat
Conservatories can get uncomfortably hot in the summer with the sun shining in all day long. Keep things cool by choosing Pleated blinds with a performance fabric offering a high Sun Shade Factor. To calculate this we look at how each fabric in the range responds to solar energy. How much does the fabric allow through, how much is absorbed and how much is reflected? The higher the SSF the more effective the fabric is at reflecting the heat. For conservatories we would always recommend our SolarPleat™ fabrics that benefit from a clever reflective coating to provide a higher SSF.
Pick thermal blinds for chilly rooms and for the cooler months
Heat is less of an issue in north facing conservatories during the summer. But they may feel chilly in the cooler months. Our performance Pleated blinds in the roof will help prevent heat escaping through the windows. For the sides, our ThermaShade™ Pleated fabrics that feature honeycomb construction giving the blind enhanced thermal properties are a fantastic option. Colour can be used to great effect too – choose bright sunny shades and rich tones to create a warm and welcoming environment.
Look out for versatile designs that will protect your privacy 
If your conservatory is overlooked by neighbours, privacy will be an important consideration when it comes to choosing blinds. Our Trilite™ Top-Down, Bottom-Up Pleated blinds are a fantastic solution to the problem of privacy. They can be positioned anywhere on a window. So if you want to cover the lower half of your window while letting the light in through the top, that's not a problem. Or how about our Transition™ Day & Night Pleated blinds? These cleverly combine two fabrics within one blind. Try mixing a sheer fabric for daytime privacy with a blackout option for the evening.
Choose a style that allows you to enjoy the view of your garden
If you're lucky enough to have a beautiful view from your conservatory, perhaps your amazing garden or even fabulous surrounding scenery, you'll want blinds for the sides that virtually disappear when they're not required. Our Pleated blinds are so neat, they fold up to take up very little space at all when full opened.
Choose child-safe products for homes with young children
Our Trilite™ blinds are ideal if your conservatory is used as a playroom, as they feature no operating cords. Instead, they're moved to the desired position by using the thumb tab on the bottom rail. Alternatively, if you have uPVC windows, you could invest in PerfectFit frames. These neatly slot into your window frame and the blind sits within them. There is no need for  drilling and no operating cords either.
Consider motorised controls for roof blinds and large conservatories
If you'll be opening your conservatory roof blinds fairly regularly, or if you have a very large conservatory, it may be worthwhile investing in out motorised roof blinds 'MotoPleat™. Simply press a button to operate.