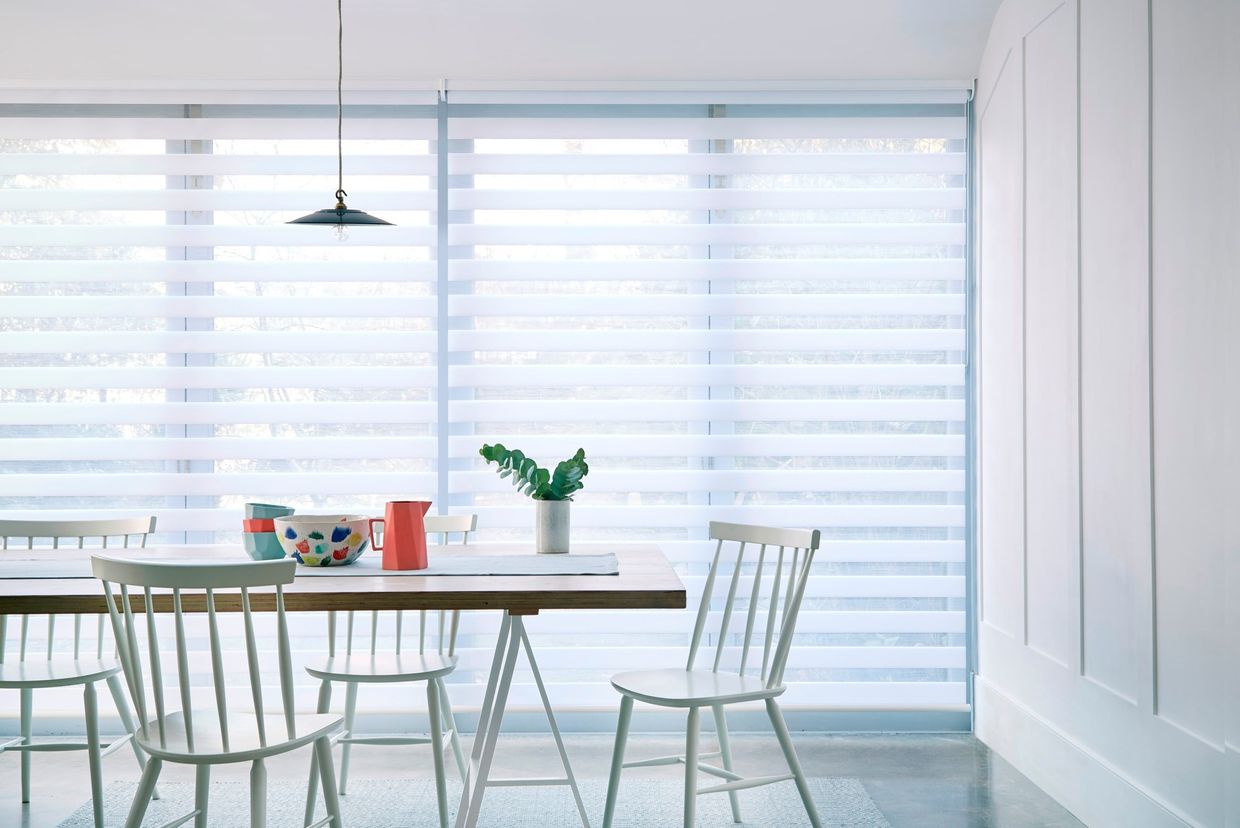 How to choose the perfect window blinds for your home
Our handy guide takes you through:
Standard blind types and their benefits
Specialist blinds, fabrics and linings
Measuring and fitting blinds
How to select the right blind
Before we take a look at all the different options, first make a note of which room your new blind is for and if you have any special requirements, as this will help guide you to the perfect blind. Once you know exactly what you need from your blind, it will be easier to find the right one.
Roller blinds at a glance:
Choice of stylish colours, prints and patterns

Blackout and moisture-resistant fabrics

Fits a wide range of window sizes

No drill option for uPVC windows

Motorised controls for easy operation
Roller blinds are versatile, budget-friendly and stylish. With a choice of specialist fabrics, including blackout and moisture-resistant options, Roller blinds are ideal for kitchens, bathrooms and bedrooms. In uPVC windows, Roller blinds can be fitted into a Perfect Fit frame for a no-drill solution. Motorised controls are also available for easy operation.
Roman blinds at a glance:
A neat and streamlined alternative to curtains

Fabric is sewn to battens and attached with cords, creating fabrics folds

Cord or chain operated, with controls attached to a child safety cleat

Blackout linings provide enhanced light control

Interlining creates a fuller look and luxurious finish
Roman blinds are made from the same fabric as curtains, and are a good choice for living rooms and bedrooms because of their luxurious finish. Choose Roman blinds in place of curtains if you have limited space around your window, or simply want a more streamlined look.  All our Roman blinds come fully lined as standard, or you can choose to upgrade to a blackout lining.
Vertical blinds at a glance:
Individual fabric louvres that can be tilted to gently filter light

A great choice for curved and sloping windows

Versatile and cost-effective choice for very wide windows and glass doors

Choice of performance fabrics for every room

Great for privacy and flexible light control
Vertical blinds are made up of individual fabric louvres held together with chains or weights. The louvres can be tilted to maintain privacy while letting in light, or positioned flat to block out strong sun. They also concertina to one side when you want a clear view. Vertical blinds fit sloping windows and curved bays, and come in a range of performance fabrics such as blackout, fire-retardant and easy clean PVC. They're also one of the most cost-effective solutions for large windows, so make a fantastic choice for sliding glass or patio doors.
Metal Venetian blinds at a glance:
Slats available in a choice of widths to suit a range of window sizes

Metallic finish helps to enhance light levels

Choose for flexible light control and privacy

Matt, gloss and luxury metallic finishes for a contemporary look

No drill solution for uPVC windows
Metal Venetian blinds consist of horizontal metal slats held together by cords. The slats either lie flat against the window to block out light, or tilt to let it gently filter through. When pulled right up, the slats create a slim profile that leaves your window free. Metal Venetian blinds are available in a selection of colours and finishes allowing you to create an individual look. If you have uPVC windows or sliding glass doors, they can fit inside Perfect Fit frames, which eliminate the need for cords.
Faux–wood and real Wooden blinds at a glance
Moisture-resistant faux-wood blinds ideal for kitchens and bathrooms

Choice of natural wood stains and painted finishes

Range of slat widths to suit different window sizes

Real Wooden blinds made from sustainably sourced wood

Great for privacy and flexible light control
Faux-wood and real Wooden blinds are made of horizontal slats, operated via a cord. Our real Wooden blinds are sustainably sourced and are available in a range of natural wood stains or neutral painted shades. Faux-Wood blinds look and feel like real wood but are water-resistant, so can be used in high moisture areas. A choice of slat widths gives you greater flexibility to control light levels. You can also choose to decorate your faux-wood and Wooden blinds with tape for a softer look.
Pleated blinds at a glance

A fabric blind with delicate, concertina-like folds

Practical fabrics include blackout and thermal options

Specialist options for conservatory side windows and roofs

No drill option for uPVC windows and patio doors

Great for controlling light and temperature
Pleated blinds look stunning and are hard-working too. A simple Pleated blind fits snugly in your window, controlled with a tab that you simply pull up and down. Pleated blinds have lots of specialist applications, including no drill options for uPVC windows, shaped solutions for conservatory roofs, day & night blinds that combine two fabrics in one blind, and top-down, bottom up blinds that can be positioned anywhere in the window to control light, glare and privacy. Our ThermaShadeTM Pleated blinds help maintain a constant temperature, so are great for conservatories and glass extensions.
Specialist blinds, fabrics and linings
Here we look at specialist blind types and the optional features available to enhance the performance of standard blinds.
Blackout blinds
Blackout blinds benefits: 
Reduces light levels for maximum light control

Great for controlling light in bedrooms

Helps reduce glare on tv and computer screens

Blackout options available in Roller, Roman, Vertical and Pleated blind types

Can be layered with curtains for an extra dark environment
We know how important a good night's sleep is, which is why we're proud to offer a range of blackout blinds. Some of the fabrics in our Roller, Pleated and Vertical blind collections have specialist blackout properties, ideal for bedrooms and for reducing glare on TV and computer screens in living spaces. All our Roman blind fabrics are available with an optional blackout lining which helps to create an extra dark environment. Our collection includes a variety of colours and styles, including a kids' collection.
Skylight blinds
Skylight blinds benefits: 
Pleated, Roller and Venetian blinds can all be made for skylight windows

Our blinds fit all types of skylight window, including VELUX®

No drill solutions for uPVC windows

Telescopic pole or motorised controls for easy operation

Blackout fabrics, ideal for bedrooms and loft rooms
Several blind types are suitable for hard-to-reach skylight and VELUX® windows, helping you to control light and temperature, as well as creating a co-ordinated look. Roller blinds can are fitted into a special bloc frame which clips into the window, while Pleated blinds and metal Venetian blinds are tension fitted using cords around the window. Blackout fabrics are also available to control unwanted light and reduce glare in bedrooms and loft rooms.
.
Browse more blinds for Velux and Skylight windows
Perfect Fit blinds
Perfect Fit blind benefits
No drill solution for uPVC windows and glass doors

Perfect Fit frame clips into place with no operating chains or cords

Roller, Pleated and metal Venetian blinds are available as Perfect Fit blinds

Perfect Fit frames available in white, brown or anthracite to match uPVC windows

No cords or chains for streamlined look

                                                          
Perfect Fit blinds are a no-drill solution for uPVC windows. Roller, Pleated or Venetian blinds sit within bespoke, made-to-measure frames that clip neatly onto your window, creating a cord-free, streamlined look. They are especially good for rooms with multiple windows, such as conservatories, as well as patio doors and bi-fold doors. Perfect Fit binds are available in a wide range of colours and patterns, as well as blackout and thermal options.
Browse more Perfect Fit blinds
Day & Night blinds
Day & Night blinds benefits
Flexible light control - sheer and opaque options in a single blind

Looks like a Roller blind – works like a Venetian blind

Motorised control option

Great for daytime privacy and flexible light control

Good solution for wide windows 
Day & Night Roller blinds offer the best of both worlds when it comes to privacy and light control. Essentially this is a layered Roller blind, where overlapping sheer and opaque panels can be adjusted to mimic the look of open or closed slats. The overall look is softer than a Venetian blind and these blinds have the added benefit of optional motorisation. Day & Night Roller blinds are especially good for contemporary interiors, and wide windows that require daytime privacy.
Measuring and fitting blinds
All our blinds are made-to-measure so will fit your window perfectly. However, your advisor will talk to you about the best option for your particular window and of course you may have some personal preferences. Here are some things to consider:
Where should I position my blinds?
Most people choose to fit their blinds within the window recess, either next to the window glass, or slightly forward so it sits towards the front of the recess. This is sometimes necessary if your windows have handles that protrude into the room.
What if I don't have a window recess?
There are some instances where you may prefer to fit your blind outside of the recess. Your window may not be set into a recess. You may want to reduce the amount of light coming round the sides of your blind, or you may simply wish to hide unsightly window frames. In all of these cases, your blind will need to be slightly wider and longer than the recess area to ensure that the area is fully covered. Your advisor can help you decide on the exact positioning of your blind.
How much will my blind cost?
All our blinds are made-to-measure for your exact window specifications, so the final cost of your blind will depend on several factors, including the type of blind you choose, the size of your window and any accessories or optional extras you wish to include. Of course the cost will also include accurate measuring and professional fitting. Our range has options to suit every home and budget, so you're sure to find the right blind at the right price for you.
What's the difference between made-to-measure and off the shelf blinds?
There is no such thing as a standard window size, and for that reason off the shelf products rarely provide a good fit for your windows, resulting in unsightly gaps around the blind, the need to adjust blinds to fit, or blinds that are too short to fully close. Off the shelf blinds also offer a restricted range of styles making it difficult to get exactly the look you want.

By choosing made-to-measure blinds you are making a great investment that puts you in control. Not only can you be sure that your blinds will be an exact fit, which is especially important if you have challenging or feature windows, but you'll also have a huge choice of blind types, designs, performance fabrics and innovative solutions for every room and window. Plus you can choose exactly the finish you want.
Need some advice?
If you're still a little unsure which is the best blind for you, our advisors will help you make the right decision. Book a free appointment and we'll talk you through all the options and show you a range of samples – all in the comfort of your home. Then once you've decided, we'll measure up and return to fit your new blinds too. It couldn't be easier or more convenient.