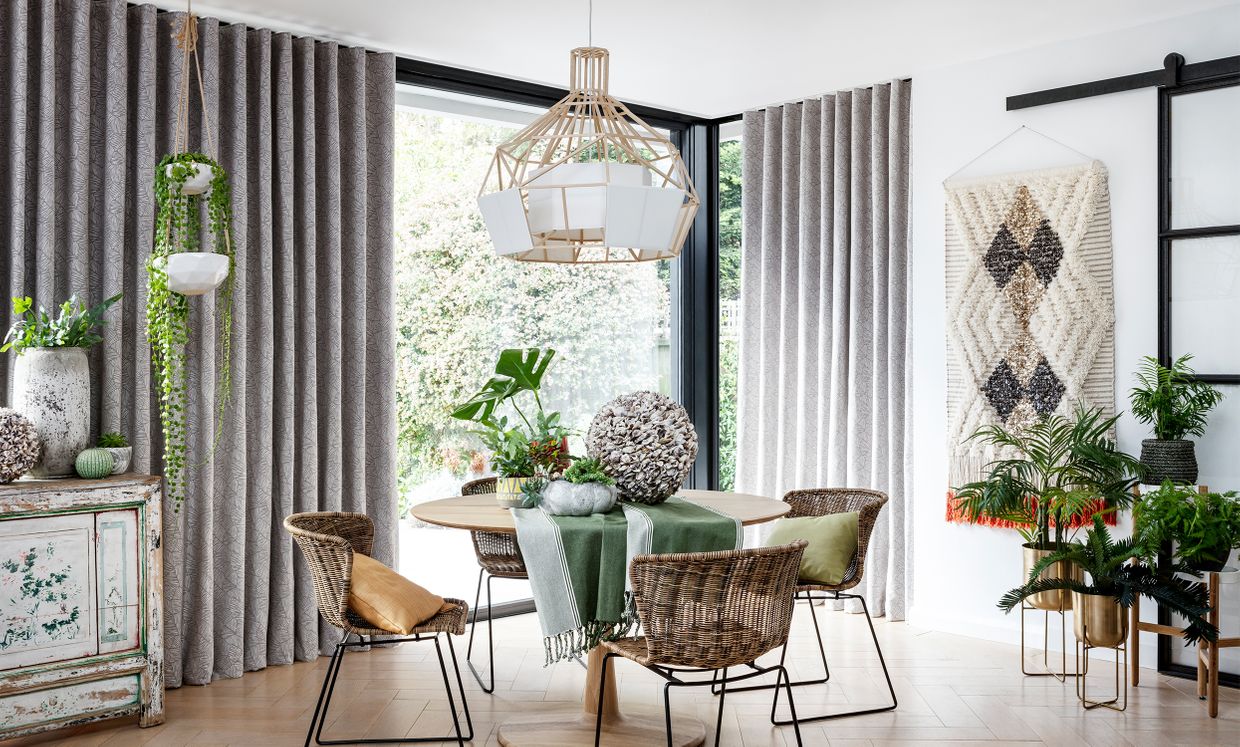 Get the look with eyelet curtains
Eyelet curtains are made by sewing circular metal rings into the heading of each curtain and then fitting the finished curtains onto a curtain pole by simply sliding the metal eyelets across the pole. The curtains are held in place by a decorative finial at each end. Once in place, eyelet curtains drape in soft folds for a contemporary finish.

In this article we talk you through the benefits of choosing eyelet curtains and share some inspirational ideas for styling your interior with curtain fabrics from our collection.
Choose for contemporary styling
Eyelet curtain are ideal for relaxed spaces with a high style factor. Choose a curtain pole and decorative finials that will complement the style of your interior décor as well as your curtain fabric, and consider the finish you want at your window. In this contemporary dining room, we've combined white Voiles with coral curtains. The Voiles protect your daytime privacy and give you a light and airy feel, while the curtains add a dash of warm colour and evening cosiness. 
Enhance décor styles
Eyelets are available in a range of finishes to suit your interior. Choose a high shine metallic eyelet for a sophisticated style or opt for a brushed finish in warm metallic shades for an understated look. In this eclectic living room, we've chosen brass eyelets and a matching curtain pole to complement the rich, earthy shades and African influences.
Create an illusion of space
Eyelet curtains are a good choice if you want to make a small room look bigger. By positioning your curtain pole several centimetres higher than your window you'll make your room seem taller and grander. Similarly, by choosing a curtain pole that's wider than your window, you can draw your curtains further back, giving the impression of extra space. During your in-home appointment, your advisor can help you choose exactly the right position for your curtain pole for the very best finish.