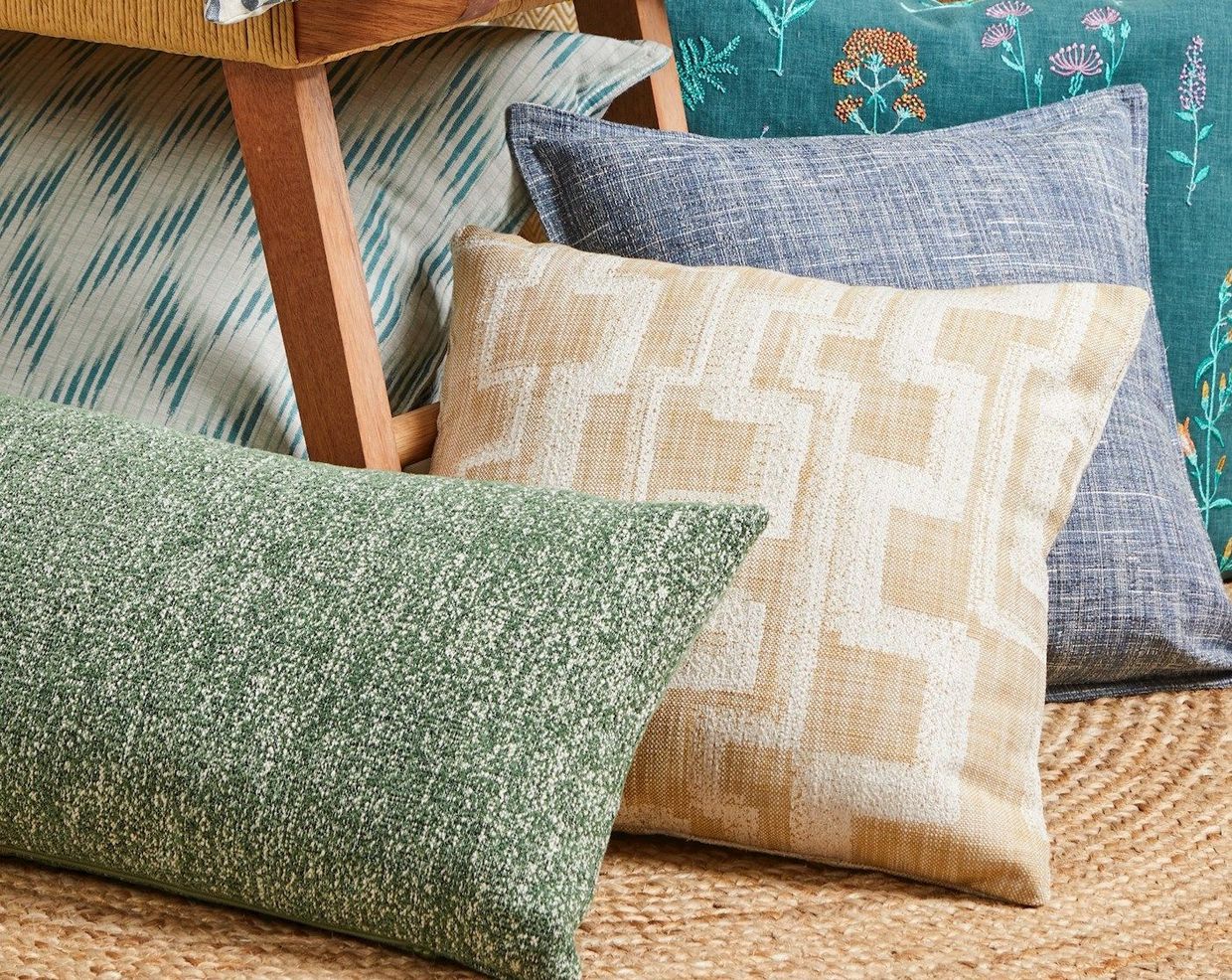 Cushions and accessories
Match accessories to your curtains or Roman blinds

Perfect for creating a co-ordinated feel

A choice of cushion sizes and edging

Choose a valance and tie-backs for a decorative feel
How to accessorise your made-to-measure curtains
How to accessorise your made-to-measure curtains
The beauty of made-to-measure curtains is you can choose from lots of accessories to get the look you want. Here are a few pointers to get you started, but a curtains expert can take you through everything in detail during an in-home appointment.
To tie back or not to tie back …
Tie backs are the answer if you want to pull your curtains to the side and enjoy filling your room with lots of lovely sunshine. It's also a gorgeous way to frame a view, with the fabric swooping away to the side. Go for tie backs that coordinate with the curtains, the pole and the room.
Should I choose a curtain track or a curtain pole?
This depends on the type of curtains you're going for. Tracks only work with pencil pleat curtains, while curtains poles are good for all curtains.
Curtain tracks are made of plastic or metal and the curtains hang on them from hooks. This is a discreet choice – you'll hardly notice curtain tracks – so they really let your fabric take centre stage. Also, tracks are ideal for styling a minimalist look.
You can find curtain poles in metal or wood and in a wide range of finishes, so they create a more eye-catching effect than tracks. It's an easy way to add a touch of individuality to your windows – especially when combined with attractive finials.
Whether you go for tracks or poles, your choice has a big job to do. Things like the weight of your curtains and the length of the pole all need considering and will affect the end result. So an in-home appointment with one of our curtains experts is a good time to find out what you like and what will work best in your room.
The surprising secret to bringing the whole look together is …
Cushions! It's true – choose cushions in the same fabric or one that colour matches with your curtains and you'll create a finish that subtly flows through your whole room. Lots of professionally styled rooms use this tip to great effect.