Roller blinds for bay windows
Give your bay window a stunning makeover with beautiful Roller blinds from our range. Choose from hundreds of gorgeous colours, textures and prints, and see your space instantly transformed with these sleek and stylish window dressings.   
Take a look at these inspirational interiors and read our top tips for choosing Roller blinds for your bay window.  
Fit a single Roller blind into each window pane
When fitting Roller blinds into a bay or box style window, you'll achieve the best finish by putting separate blinds into each individual section of your bay. Because made-to-measure Roller blinds fit each frame like a glove, the overall look is smart, clean and streamlined.  We've chosen Serena Teal Roller blinds for this stylish dining room bay window. The fresh shade adds an energising splash of colour to the neutral scheme.
Position your blinds for flexible light control
The beauty of fitting individual blinds to each window pane is that it gives you flexible control over light. You can position your blinds at different heights in the bay to control the sun's glare throughout the day. Top interior designers also use this technique to create a look that's visually appealing, ensuring that the eye is drawn to the stunning feature bay window as soon as you enter a room. To give this contemporary living room a coherent look and feel we've picked out the zingy lime accents from the Betsy Blue Roman blind for the cushions and accessories.
Stunning transformations made simple
Roller blinds are available in hundreds of colours, textures and patterns so you're sure to find a design that perfectly complements your decor and personal style. You can also embellish your Roller blinds with eyelets, braids or shaped hems for a distinctive look that's ideally suited to the style of your property. A classic White Roller blind with eyelet detailing makes a stunning addition to this scandi-style dining room.
Practical fabrics for different environments
Roller blinds are really easy to maintain, so are great for bay windows in rooms that are prone to stains and spills. But that's not all. Roller blinds can be made with blackout fabrics for use in bedrooms and nurseries, and there are moisture-resistant fabrics that are ideal for bathrooms and cloakrooms. We even have recycled cotton fabrics which are great for the planet!
A stylish alternative to net curtains
If you're looking for a sheer window covering that allows lots of light into your home but also protects your privacy, then a sheer Roller blind is a modern and stylish alternative to traditional net curtains. Our sheer Roller blinds come in a range of gorgeous fabrics and prints, from delicate lace to fine gauzy weaves.
You might also be interested in…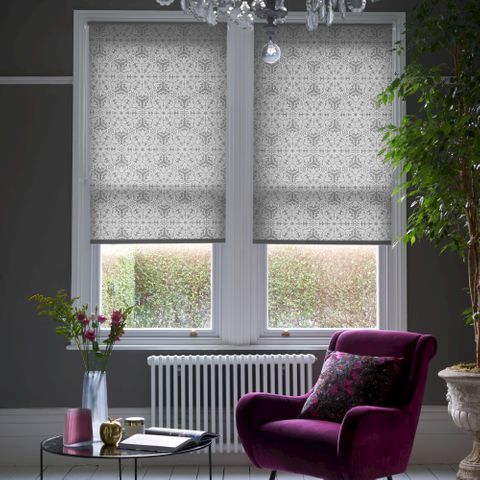 What are they, how do they work and why should you choose Roller blinds for your windows.