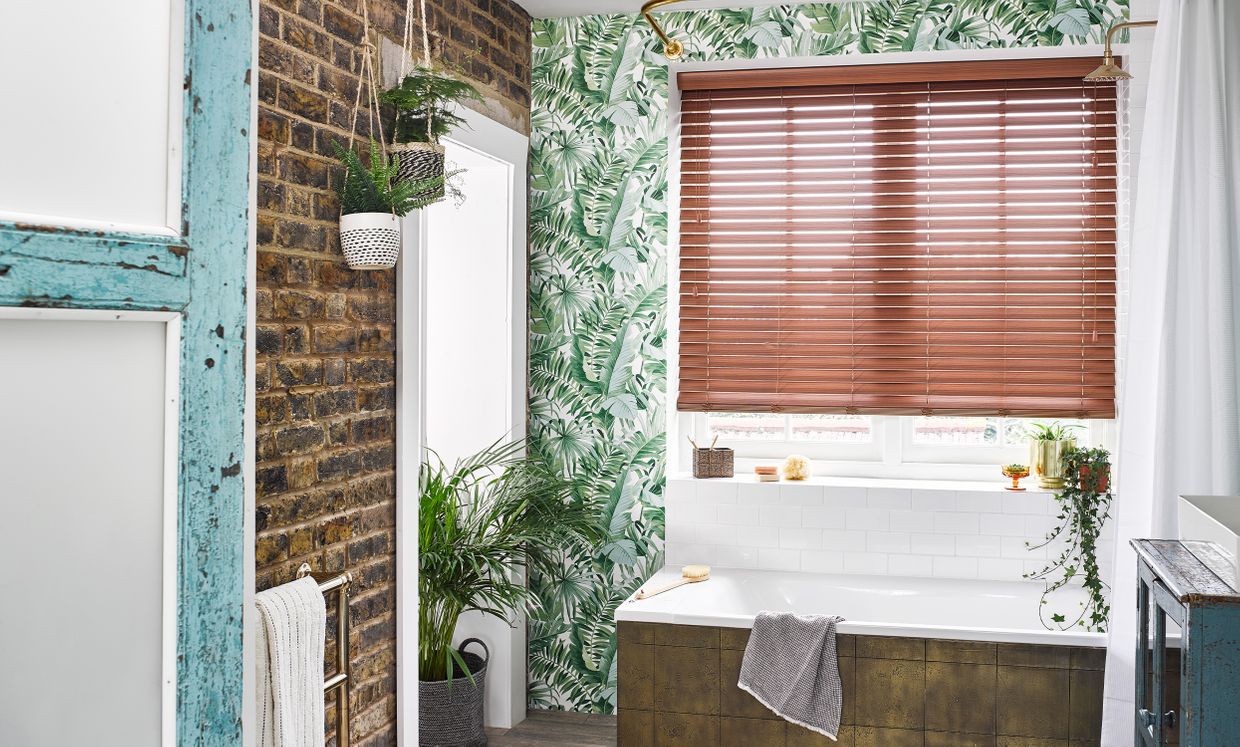 Waterproof Blinds for Bathrooms
VENETIAN BLINDS FOR BATHROOMS
Venetian blinds come in a wide range of colours, metallic shades and special finishes for a sleek and contemporary look. Practical and really easy to maintain, brown blinds are great for bathrooms and cloakrooms. They're ideal for windows that are away from sinks, showers and baths.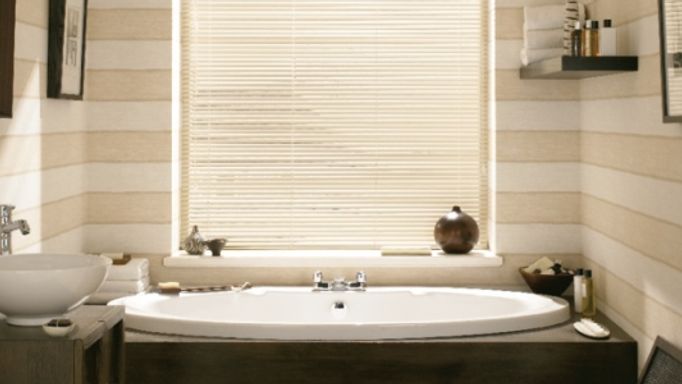 View Venetian blinds
VERTICAL BLINDS FOR BATHROOMS
Ideal for large glazed windows and doors, Vertical blinds a great option for bathrooms and wet rooms, where their moisture-resistant properties are a real bonus. Vertical blinds come in a fantastic array of designs and fabrics that work particularly well in contemporary spaces. Durable and hardwearing PVC fabrics are especially suited to steamy bathrooms and wet rooms.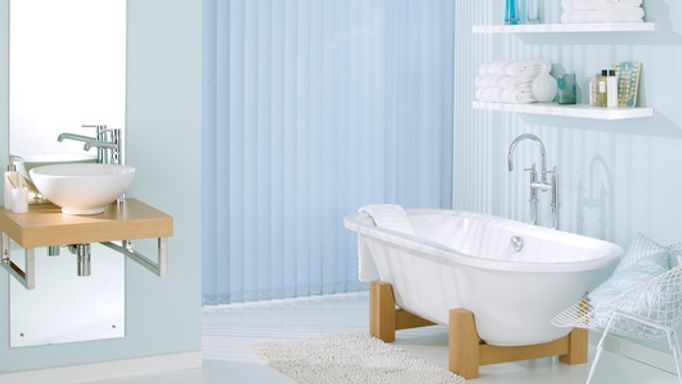 View Bathroom blinds
ROLLER BLINDS FOR BATHROOMS
Choose a Roller blind for a neat and clutter-free finish. From fun prints to textured plains, all in moisture-resistant fabrics, you're sure to find the perfect bathroom blinds, whatever your style of bathroom. Roller blinds are ideal for any bathroom or cloakroom where you want to maximise light and space. They filter the light beautifully while giving you much-needed privacy, especially in downstairs bathrooms and rooms that are overlooked.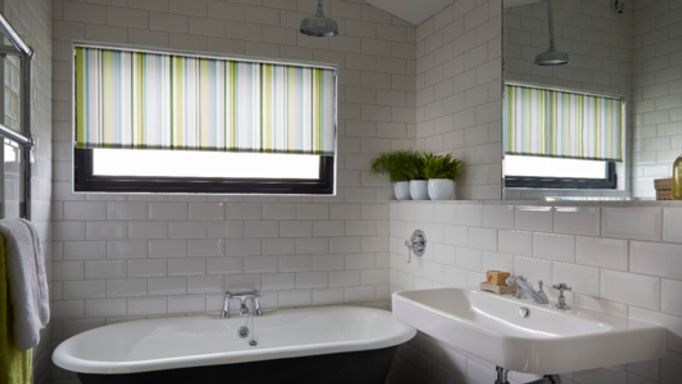 View Roller blinds
FAUX WOOD BLINDS FOR BATHROOMS
If you really love the natural beauty of wooden blinds, you'll be pleased to know there are some great faux wood and wood effect alternatives. These give you the same good looks, but with the added benefit of being moisture resistant.
Aluwood is a range of wood-effect metal Venetian blinds, which are available in 10 great shades and offer a moisture-resistant alternative to wooden blinds.
Alternatively, our faux wood blinds combine the natural beauty of wood grain with the practicality of man-made material. They are hardwearing, water-resistant and perfect for bathrooms. And if you love the look of wooden shutters, take a look at our Henley range which has been specially designed for bathrooms and areas that are subject to excess moisture. They're made from a premium polymer material, that's waterproof and extremely strong.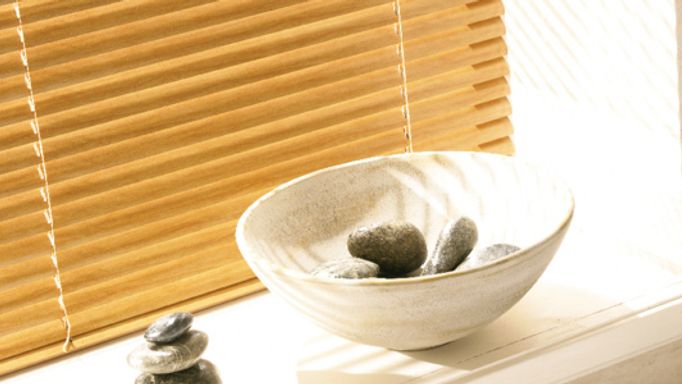 View Wooden blinds
You might also be interested in…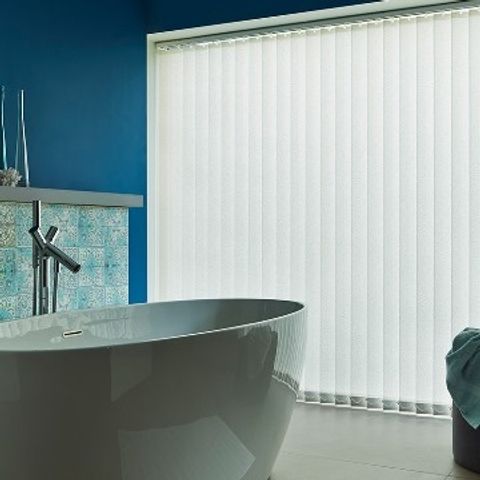 Bathrooms have become more than just a functional room, they are beautifully designed spaces where we go to relax.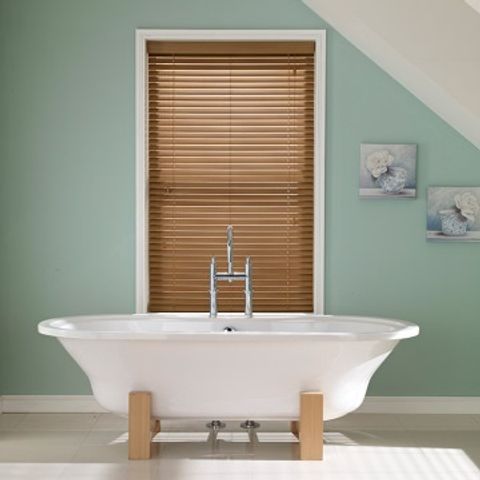 Practical natural wood and wood effect options that are ideally suited to bathrooms and wet rooms.
Here's our rundown of the best options for humid conditions.