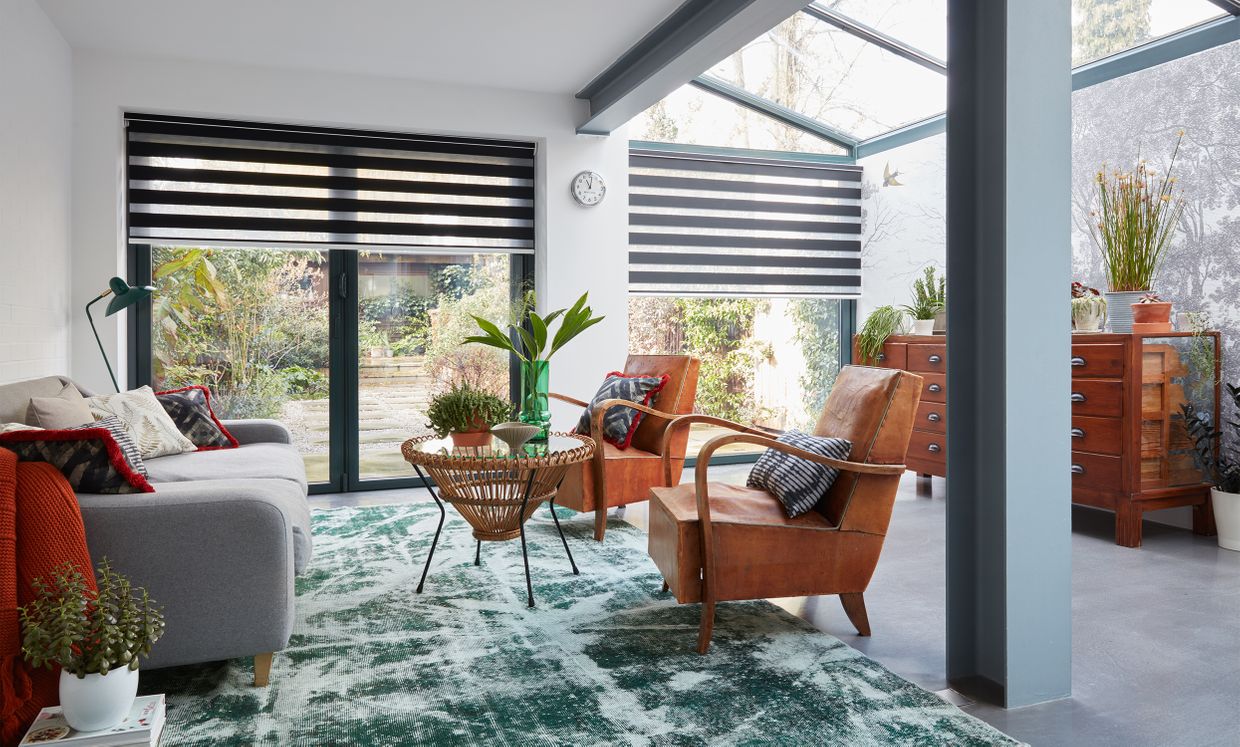 How to dress your patio doors with beautiful blinds
We talk you through the options
🕒 Reading Time: 3 minutes
In our expert guide, we answer your questions and talk you through all the options to help you choose the best blinds for your patio doors, whatever your taste, lifestyle, or budget.
What blinds are best for patio doors?
There are several blind types that are suitable for patio doors but before we go into more detail about these, we suggest you take a moment to ask yourself some important questions:
Are my patio doors mainly for light control or do I need regular access to the outside?

How do I use the room and space around my patio doors?

Are my patio doors overlooked? Does my blind need to protect my privacy?

How do my patio doors affect the way the room feels throughout the day and seasons?
Once you have an idea of what you're looking for in a blind, you'll find it easier to narrow down your selections. Let's have a look at the options:
Best blinds for light control
When it comes to managing light levels, especially across wide expanses of glass, Day & Night Roller blinds are hard to beat.  These innovative blinds cleverly combine sheer and opaque panels in a single blind. In the opaque/translucent position, Day & Night blinds gently filter light, while in the opaque/opaque position they block out unwanted light and create a cosy feel. Of course, you can also open these blinds right away from the window just like a standard Roller blind when you want to let lots of light in.
Best blinds for easy access
If your patio doors provide regular access to and from your house, then you need blinds that work seamlessly with your doors. Perfect Fit blinds are a clever, no-drill solution for uPVC patio doors. They work by clipping a special Perfect Fit frame within your uPVC panels. Your choice of Roller, Pleated, or metal Venetian blind is fitted into the Perfect Fit frame and your blinds become an integral part of your door. There are no operating cords or chains, so Perfect Fit blinds are inherently child safe and great for creating a really sleek look.
Best blinds for social spaces
In most homes patio doors are found in the busiest spaces, especially kitchen-diners and living rooms. These areas demand a hard-working blind that's great to look at but practical too. Traditional Roller blinds are a great choice for these. Versatile and budget-friendly, our range includes blackout and moisture-resistant fabrics, as well as sheer styles for daytime privacy. Roller blinds even have the option of motorised controls for easy operation.
Best blinds for privacy
Vertical blinds are a really practical choice for patio doors. They gently diffuse light to help maintain a comfortable temperature and provide privacy, which is essential if your room is overlooked. Ideal for kitchens and areas of heavy usage, Vertical blinds are really easy to maintain and come in a range of performance fabrics, including waterproof, wipe-able, dim-out, and light-reflective options. Vertical blinds can be made to fit almost any width, so are great for full-width doors in glass extensions.
Best blinds for temperature control
While patio doors are great for bringing in lots of light, strong summer sun and chilly days can lead to extremes of temperature. Specialist ThermaShadeTM Pleated blinds have a solar reflective coating that helps to regulate the temperature all year round – keeping you toasty when it's cool and chilled during the hot summer months.
How to measure for patio door blinds
How you measure your patio doors for blinds depends very much on the type of blind you choose, the overall width of your doors, where you want to position your blind in relation to the door, and, to some extent, personal choice. Because there's so much to think about, it's great to have an expert on hand who can talk you through all the options and make a recommendation based on your exact specifications. Arrange an appointment with your local Hillarys advisor to find the best solution for you and your home!
You might also be interested in…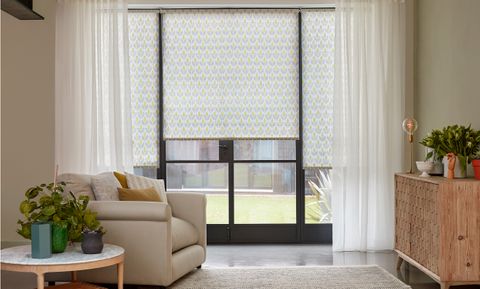 Choose a window dressing that best suits the style and function of your French doors.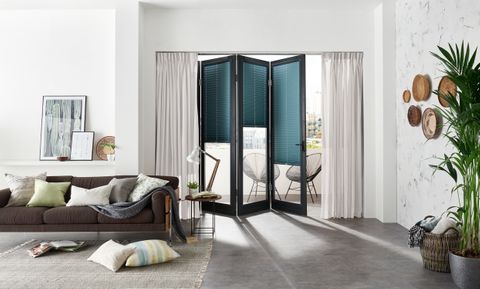 We've developed a range of gorgeous blinds to tackle temperamental UK temperatures.