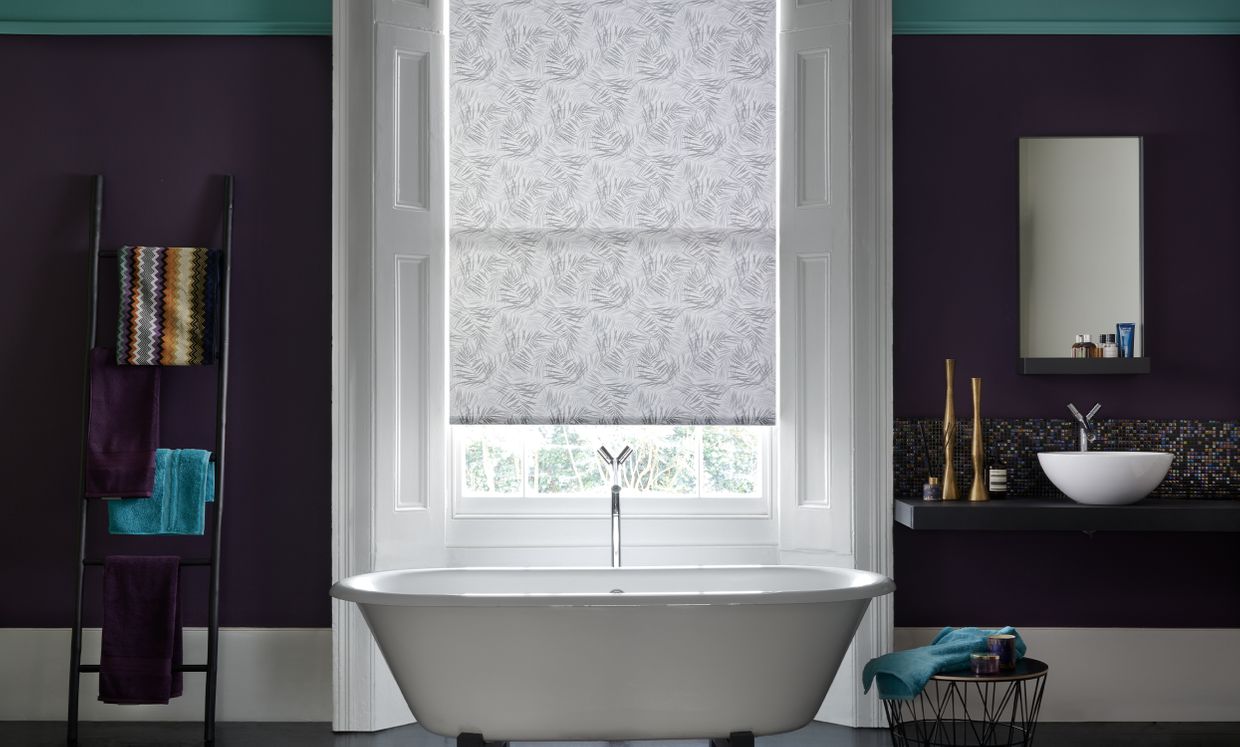 The best blinds for bathrooms
Bathrooms are hard-working rooms, so you need a hard-working product at your window. Because of the steamy, moist atmosphere, bathroom blinds can be susceptible to mould and water marks. The good news is there are plenty of blinds available that look good, are hygienic and practical, and finish off your bathroom beautifully.
From family bathrooms to en-suites to wet rooms, here are some bathroom blind options to help you decide what will work best for your space. 
What blinds are best for bathrooms?
Standard Roller blinds
Roller blinds are a great choice for a bathroom.  They're sleek and neat, folding tidily out of the way keeping your windowsill clear for candles, plants and other pampering essentials. 
Our standard Roller blinds are suitable for bathrooms. There is a huge range of designs and colours to complement the look of any style, from sleek minimalist to colourful coordination with your bathroom suite, tiling and accessories. Blackout fabrics are also available, offering you the privacy that you need in a bathroom.
PVC Roller blinds
You can't get much more practical than a PVC Roller blind. Available in a range of stylish designs, colours and textures, they're moisture-resistant and easy to clean with a quick wipe, so they'll last and last.  Choose from fresh, light shades or jazz up your bathroom style with exciting patterns and a splash of colour.
Our standard and PVC Roller blinds are also suitable for downstairs loos, washrooms, utility rooms and, of course, kitchens. 
Are wooden blinds suitable for bathrooms?
If you've after the timeless style and natural warmth of wooden blinds, they're certainly an option if you have a large bathroom and a great extractor fan.  If your bathroom or wet room is too steamy, you can achieve the same look and feel with faux wood blinds.  
Being moisture resistant, faux wood blinds are a practical and sophisticated choice.  They also wipe clean so, unlike real wood, they won't get marked by condensation or water drops.  Faux wood blinds are available in three width slats and in natural or painted finishes.  
Vertical blinds are a practical choice
Vertical blinds might not be your first thought when it comes to your bathroom, but they're practical and versatile.  They're particularly suited to bathrooms and wet rooms, as they are available in performance fabrics such as PVC.  There's a wide choice of wipe-clean moisture-resistant finishes that will last well and be easy to maintain.  
If you have large windows, they're ideal as they provide privacy and allow you to control the light. You don't have to compromise on good looks either. Vertical blinds come in a wide range of classic and contemporary designs and colours to suit any scheme.
Can I have a Roman blind in my bathroom?
Roman blinds are a perfect choice for downstairs cloakrooms and en-suite guest bathrooms, particularly if coordinated with the design of accompanying rooms.  
Roman blinds are best avoided in small, heavily used or very steamy bathrooms.  But they can be used in large well-ventilated bathrooms, where they provide some colour, texture and warmth to what can be cold, clinical spaces.  They can also soften the sound quality in the room.  
Roman blinds offer a classic, sophisticated look; are well suited to the vintage styling and complete the look for a cottage bathroom.  There are plenty of gorgeous designs and fabrics to help you create exactly the right look. 
You might also be interested in…
More inspiration for your home