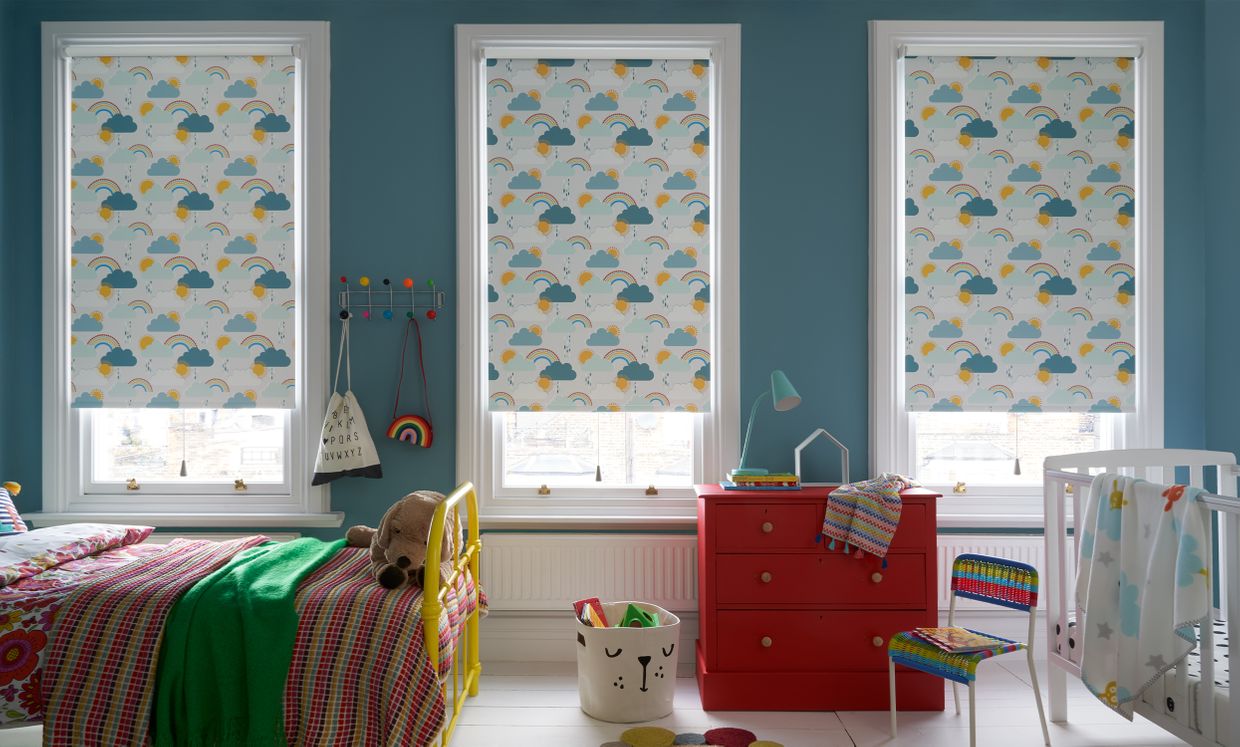 Curtains and Blinds for Children's Spaces
Decorating your child's bedroom is fun and something most of us do every few years as they grow.  When it comes to the windows, you want safe and practical curtains and blinds that help your child sleep soundly, and add some colour and personality to their room, whether it's a nursery, bedroom or playroom.  Our guide below gives you a few ideas to think about.
Nursery curtains and blinds
There's nothing like decorating the nursery for your first child, but don't get carried away with style alone.  Babies and young children need up to 11 hours sleep a night, as well as daytime naps.  It can be difficult to settle them down if the sun is streaming through the window.  That's why The Sleep Council recommends keeping kids' bedrooms completely dark at bedtime as this aids relaxation and creates the right environment for sleep.
How can you blackout a children's bedroom?
Choose a blackout Roller blind fabric.  Not only is this neat and sleek at the window, but there are lots of cute and attractive children's designs to choose from, as well as a great range of plain options.  The blackout fabric itself completely blocks out light, leaving a slight luminous glow at the edges, which you can avoid by layering the blind with a pair of contrasting children's curtains.  Layering will also add to the insulation of the room, keeping it nice and cosy too.
If you're after a more streamlined look, consider a blackout Roller fabric that sits in a PerfectFit™ frame.  The frame clicks into place between the beading on your window frame and the glass of uPVC windows without the need for drilling.  The blackout blind sits snugly in the frame. Again, layer with curtains to soften the window aperture and provide additional warmth.
Pleated blinds are a versatile option for a child's room. Consider a Transition™ Pleated blind that combines two fabrics within one blind. Choose two contrasting colours, or opt for two practical fabrics. Combining a blackout fabric with a sheer fabric, for example, provides daytime privacy as well as a dark environment when it comes to bedtime. Transition™ blinds can be fitted within a PerfectFit™ frame for a snug fit that keeps light levels to a minimum, especially if you choose a blackout fabric.
What about child safety with blinds?
All our free-hanging blinds, which are operated by cords, have a child safety device fitted as standard although you can opt for a cord-free Roller blind.  PerfectFit™ blinds have an easy-to-use central tab and no visible cords, so they are inherently child-safe.
Children's curtains and blinds
As your children grow, the way they use their bedroom space changes.  Their interests begin to emerge too, so you might want to move on from cute nursery curtains and blinds to products that reflect your child's love of the seaside or their favourite colour. There are so many fabrics to choose from for curtains and Roman blinds that will make a statement and fire their imaginations.
All our curtains and Roman blinds are lined, but to keep your child's room even cosier go for a thicker thermal lining on curtains.
Are shutters suitable for children's bedrooms?
Shutters might not be your first thought when it comes to children's spaces, but they solve every problem.  They'll keep the room dark, even during the brightest of days; help to keep out the cold during the winter months; are completely child safe and their classic style means they won't need replacing every time you redecorate. What's more, they come in a range of fantastic painted shades and natural wood stains. Use our custom colour service and let your creativity run wild with coloured shutters – we're able to match to almost any colour.   
Alternatively, go for a classic white shutter, which will work with changing decor experiments throughout the years.  Shutters stand the test of time, lasting your child from babyhood to teenagerhood – and beyond!