We're all familiar with the look of a window shutter, but what actually are they? How do they work? And why should we choose shutters over other window dressings? In our latest article, we take an in-depth look at these popular window coverings and guide you through the options.
Read our top tips for choosing window shutters for your home, and be inspired by our beautiful collections.
What are shutters?
At their most basic level, shutters are window dressings that control the amount of light coming through a window. They have solid frames with built-in louvres that can be adjusted to let the light filter in or block it out. They are fixed directly to the frame of the window and are usually made of wood, but water-resistant options are now available. You may come across the term 'plantation shutters' when reading about these particular window dressings – this traditionally referred to a wider-louvered shutter, but is now commonly used to refer to all types of interior window shutter.
A shutter style for every window
Shutters come in all shapes and sizes to suit your needs. There are full height shutters which cover the entire window with tall, seamless panels, tier-on-tier which allow you to open the top and bottom panels independently, cafe style shutters which attach to the bottom half of your window only, tracked shutters which can be made to fit patio doors, solid panels which provide enhanced light control, and finally shapes which are made to fit awkward or unusual windows. View our full range or ask your advisor to talk you through the options during your home appointment.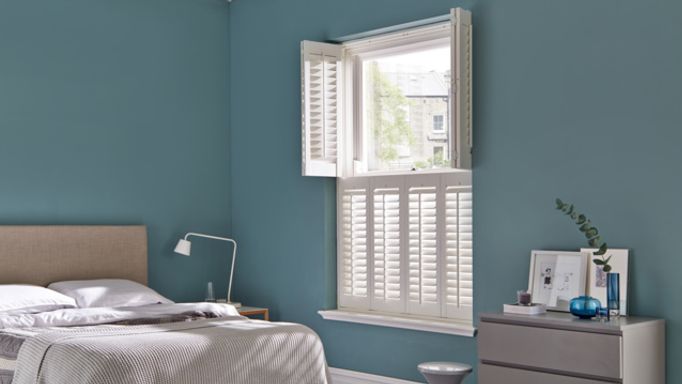 Book a free in-home appointment
How do shutters work?
Shutters can be operated in a number of ways. Most shutters have hinged panels that open and close in a concertina-like manner, allowing you to stack the panels at the side of the window when not in use.
Shutters can also be opened and closed like a door - as seen in this contemporary bedroom.
With the exception of solid shutters, all shutters have adjustable louvres that filter the light. Tilt rods allow you to open and close these louvres in a uniform way, and also add a stylish finish to your shutters. You can have your tilt rod located centrally, set to the side (as seen below), or hidden within.
Why choose shutters?
There are so many reasons to choose shutters for your home. As well as controlling the amount of light coming through your windows, they also offer a wide range of other benefits like providing an extra layer of insulation at your window, protecting your privacy and helping to prevent unwanted noise from entering your room. They also give your windows a beautiful, classic look that will stand the test of time – no matter what décor changes your home goes through over the years.
A world of colour
When you think of interior shutters, a classic white or cream shutter will probably spring to mind. Whilst we love the enduring appeal of neutrals, shutters can be made in a wide range of colours and finishes. If you like the look of real wood, go for a natural stain or if you prefer a sleek finish, select a painted hue. Hillarys offer a variety of colours including a range hand-picked by interior exerts House Beautiful. We also offer a custom colour service so you can match your shutters to your walls, or have them made in your favourite colour. The choices are endless.
A long-term investment for your home
As shutters are a permanent fixture, they should be seen as a long-term investment for your home - one that could even add value to your property. Our shutters are made from the finest quality materials and will last for many years to come. We even offer a five-year guarantee on all our shutters so you'll have complete peace of mind.