When Naomi moved into her new home the décor was very dated and didn't fit with her contemporary taste. As part of a big redecorating project, every room was given a top-to-toe revamp and when attention turned to the finishing touches, new blinds were at the top of the list.
The patio doors in Naomi's lounge lead out to the garden. As the sun moves around throughout the day the sunlight causes glare on her TV screen. Acting on the recommendation of a friend she made an appointment with Hillarys to find out how blinds could help.
"I wanted something to fit with my contemporary décor, but also something that wouldn't make my room feel dark. There was so much choice I couldn't believe it. My advisor was great, he helped me pick the perfect fabric."
"And it was really useful to take the fabric samples out of the book and put them up against my window to see how they would look."
What does Naomi think of the Hillarys in-home measuring and fitting service?
"I'm no good at DIY and wouldn't know where to start in fitting a blind, so the idea that an expert looks after all of the measuring and fitting for me is very appealing."
"My advisor fitted my blinds really quickly, with no mess. I didn't do anything – it was so easy."
So how does she feel about her new Vertical blinds from Hillarys?
"I love my new blinds. I love the fact that they fit perfectly with the contemporary feel of my room. But I also love the practical benefits. I can now see my TV on sunny day – what a result."
Would Naomi recommend Hillarys?
"I can't recommend Hillarys highly enough. They were completely professional from start to finish."
Choosing Vertical blinds: Meet Naomi
Considering Vertical blinds for your home? Take a look at our short video following customer Naomi, who wanted blinds to finish the large window and doors that led out to her garden. A friend recommended the Hillarys in-home service, so she arranged a free home appointment to find out more about the Hillarys range and what would work best with her contemporary décor.
You might also be interested in…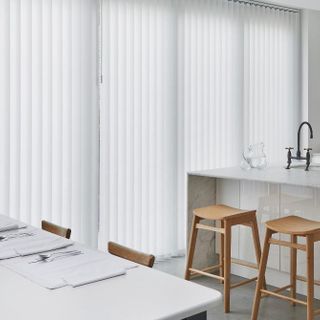 Our Perfect Fit frames offer a versatile and sleek finish to your window and door coverings.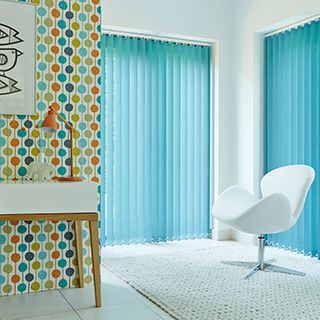 Dressing a window or a door is a great opportunity to make a statement. It's less of a commitment than getting the paintbrushes out, here are our top tips to making a statement.
We give you our top tips for keeping your Vertical blinds in tip top condition.