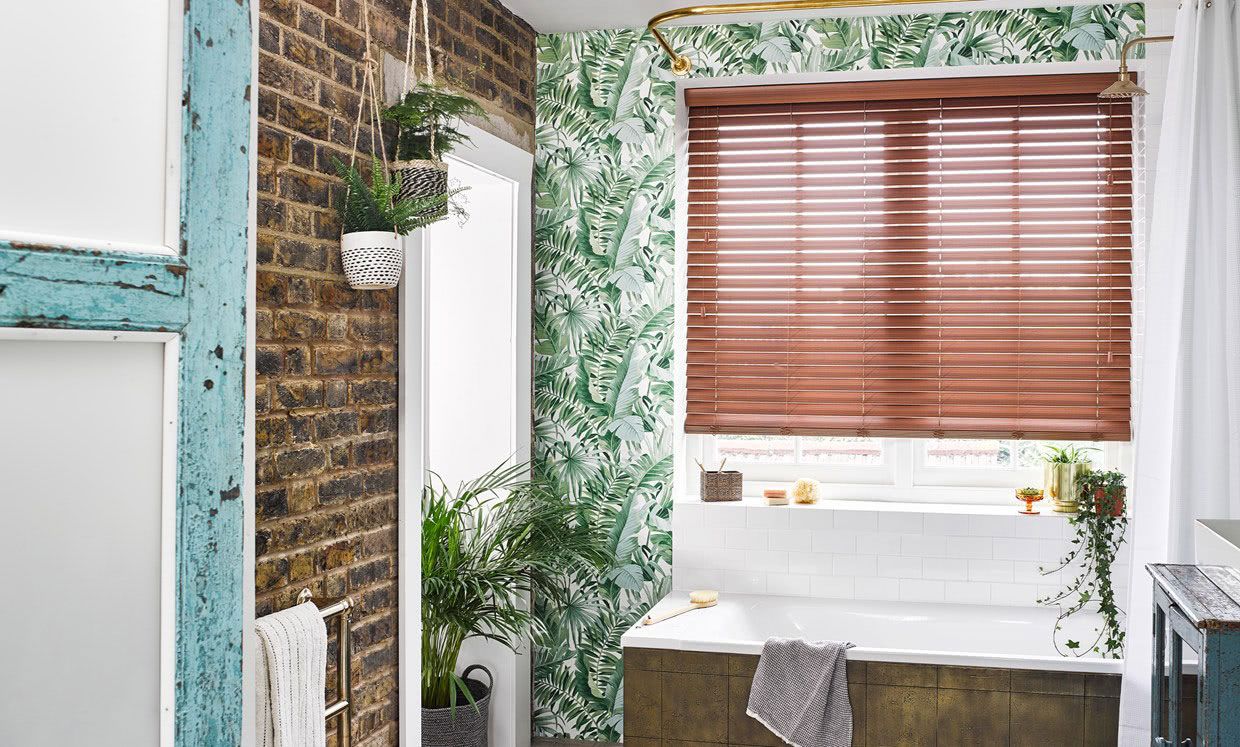 Get the look with Wooden blinds
For practical good looks throughout your home, choose beautiful Wooden blinds in natural wood tones and contemporary painted hues. Here we showcase our latest collection and show you how to create chic spaces using the natural warmth of wood.
Naturally warm
To create a space that feels naturally warm and welcoming, choose Wooden blinds in light, golden tones. In this relaxed living room we've chosen brown wooden blinds in Scandinavian Beech for the wide windows, and finished them with decorative tape in ivory to complement the cushions on the large sofa. The beech coffee table echoes the golden tones of the beautiful blinds.
Colour wash
Our collection includes natural wood shades with a subtle wash of grey, which will perfectly complement a contemporary neutral palette or help to create a subtle heritage look in your home. In this elegant hallway, we've dressed the double aspect windows with Washboard Grey Wooden blinds, finished with decorative tape. The warm grey shade helps to connect the sage green of the walls, dark mahogany console and creamy linen lampshade.
Tropical tones
For a dramatic and sultry design scheme, choose rich nut shades like these gorgeous Hickory Wooden blinds. This stunning living room has a distinctly tropical flavour, featuring sumtuous seating combined with textured cushions in warm pastel shades and strong geometric patterns. The overall look is softened by layering Tetbury Mustard curtains over the dark Wooden blinds.
Paint effects
Liming is a traditional method of finishing wood to create a subtle bleached-out look that highlights the natural beauty of the wood grain. Liming gives you a warm, chalky tone and texture with natural undertones where the wood grain continues to show through. We chose Limed White Wooden blinds to create a cosy feel in this restful bedroom. The creamy hue draws the scheme together,  balancing the crisp white bed linen with the darker wood tones of the furnishings.
Cool sophistication
Bright white Wooden blinds create a crisp and clean look that suits a wide variety of décor styles. In this chic living room we've used Pure White Wooden blinds to complement the fresh colour palette.  Icy blue walls and inky faux-silk cushions contrast sharply with the contemporary grey seating. The wall art combines colours from the entire palette to finish the coolly sophisticated look.
Continental chic
French décor style is as popular as ever, and with the current craze for upcycling, painted French style furniture is seeing a resurgence in British interiors. Chalky creams, distressed greys and sage are staple shades for painting French furnishings, so our collection includes off-white shades that are perfect for creating a typically French style. In this classic boudoir, we've chosen Provence White Wooden blinds to complement the painted bed frame and dressing table. Contrasting grey tape adds a chic and stylish finish.
You might also be interested in...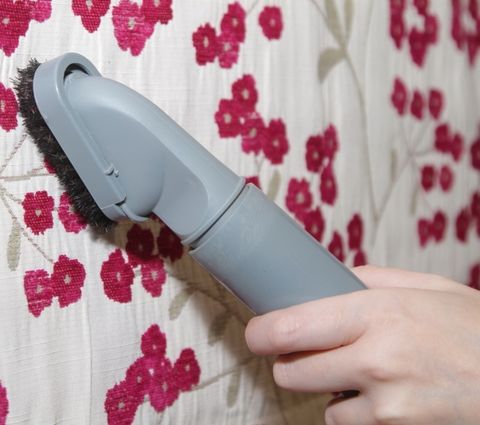 Discover the easiest way to take care of your curtains.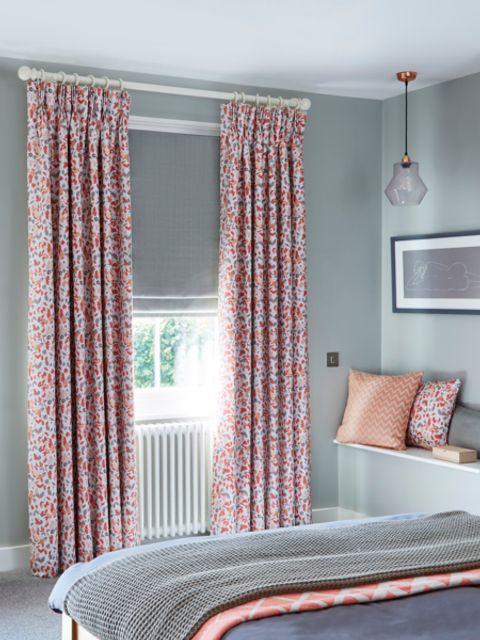 Read our top tips for choosing curtains and blind fabrics that work beautifully together.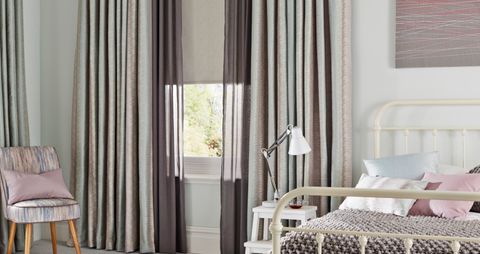 Top tips and clever tricks for dressing your wide windows and doors