Inspired by the gardens at Kew, British designer Charlotte Beevor has created a contemporary collection of Roman blind and curtain fabrics featuring bold, painterly brushstrokes in intensely rich shades. Together with a shimmering selection of faux-silk fabrics and earthy textured plains, the Indigo Garden collection gives you a whole house worth of inspirational combinations to choose from.
Here we show you some of the great ways you can work fabrics from the collection into your interior scheme.
Deliciously dark
Embrace sensuously dark shades in your décor. We've matched the wall colour in this sophisticated living room with the deep indigo tones of this stunning Sorana Violet Roman blind. Radiance Berry curtains enhance the luscious look, picking up the rich violet accents in the Roman blind fabric. Pops of sugary pink add a sweet touch to the heady mix.
Get Fresh
In this contemporary dining room we've pulled out the fresh green hues in these Grapeflower Berry curtains to create a calming canvas for the statement floral print. The oversized pendant lamp and all-white dining furniture give the room an edgy twist, with a vase full of fragrant blooms to complete this fascinating fusion of urban style meets country garden.
Pastel pops
Createa look that's really pretty and feminine with blush, rose and blossom accents throughout your scheme. Marble surfaces combine with earthenware jugs and vases in shades of grey to create a cool contrast to the sugary pink painted chairs and crockery. The intensely rich background in the gorgeous Petala Indigo Roman blind draws the eye and tempts you into this inviting space.
Gravelly greys
This boutique bedroom combines a tonal grey palette with punchy purple accents. We've teamed a Grapeflower Blush Roman blind with textured Iris Shadow curtains for a darkly brooding feel. The demure buttoned headboard and super soft rug keep the overall scheme looking fantastically feminine. 
Plump for petals
This simple petal repeat works especially well in small spaces and understated schemes, where you want a feature print that doesn't overwhelm the space. We've chosen a Roman blind in Confetti Misty Blue to complement this contemporary cloakroom. A gallery of quirky cartoon prints adds an element of fun to this quietly sophisiticated space. 
You might also be interested in…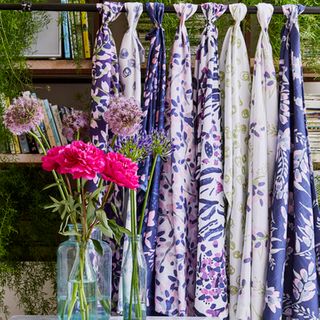 A contemporary collection of Roman blinds and curtains brought to life by the young British designer Charlotte Beevor.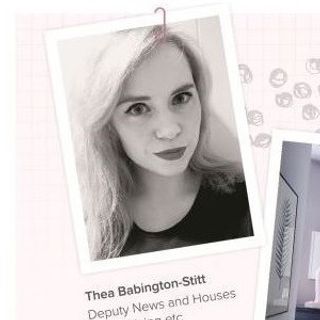 We gave Thea Babbington-Stitt, Deputy News & Houses Editor at Livingetc magazine, a sneak peak of the Indigo Garden collection.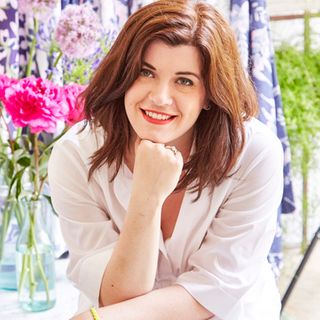 Charlotte has now turned her talents towards Roman blinds and curtain fabrics, designing a range exclusively for Hillarys.