'Jewel: The Edit' has landed. The sumptuous range brings together a stunning selection of Roman blinds and curtains, with four colour palettes to choose from: Sapphire, Amber, Jade and Ruby. Here, we take a closer look at the vivid hue of Sapphire.
Sapphire is the most vivid shade of blue, which is both luxurious and heavenly. It brings opulence wherever it is used, and is a bold choice layered with other vibrant shades.
One such shade is fuchsia – the gemstone sapphire naturally occurs in a variety of strong shades including pink, which explains the perfect colour pairing of the duo. Our Nova and Erika Fuchsia fabrics accentuate the vibrancy of the sapphire tones.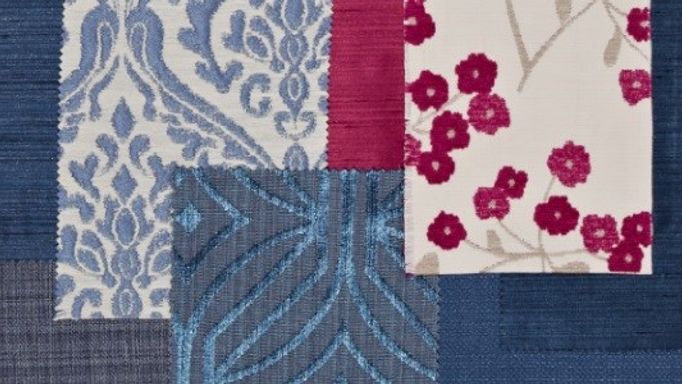 To create a décor scheme with depth, it's important to mix different elements. Try combining different patterns, textures and shades for an eclectic feel. Rich fuchsias and intensely hued pomegranate shades are stunning in a Sapphire-based scheme, but if you're just starting out, sticking to just a few pops of colour can be just as visually interesting.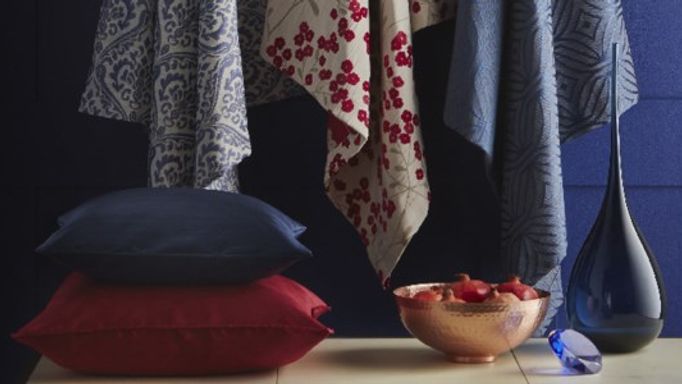 Our luxurious living room draws on these bold shades for inspiration. The wood panelling is a deep royal blue, while the matching windows are layered with luxurious Element Denim blue curtains and complementary Nova Fuchsia Roman blinds.
As well as stylish pops of fuchsia, we've also added dashes of gold and copper for warmth, setting off the classic parquet flooring. The gold starburst mirror has an explosive effect against the rich walls, which is grounded by the neutral mantelpiece.
If you're looking to update Sapphire for the modern home, contemporary twists are important. Here, we've combined the traditional silhouette of a Chesterfield sofa with modern upholstering, and finished it with gorgeous pops of colour from our stylish scatter cushions. Industrial wrought iron legs on the coffee and side tables also add a sweep of masculinity.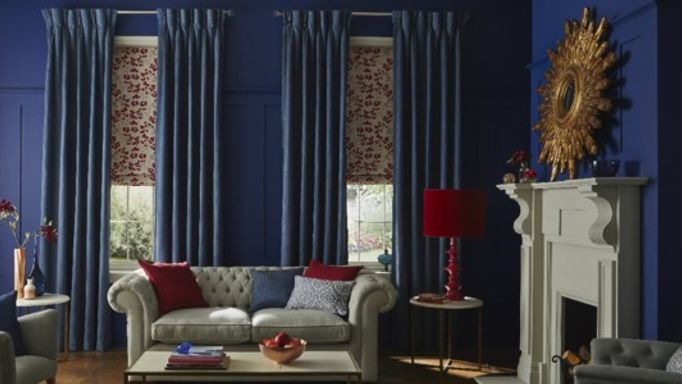 View Curtains
As Sapphire is such a bold shade in its own right, textures work just as well as patterns. The subtle geometric design of our Element Denim fabric allows the vibrant hue to take centre stage. An elegant elongated vase on the side table finishes off the trio of glimmering shades perfectly.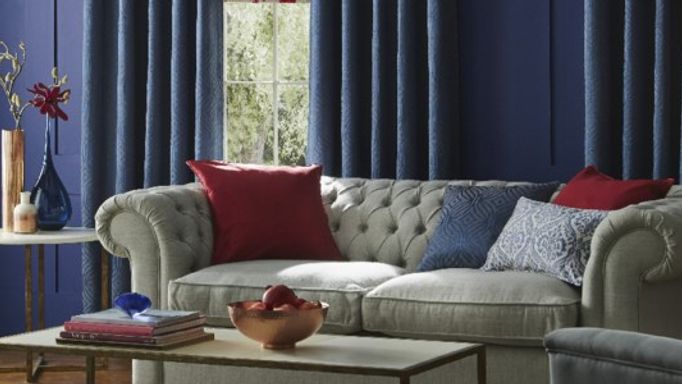 View Curtains
Top tips for making a bold statement with vibrant Sapphire
Use Sapphire as the main shade, and layer pops of fuchsia for a stunning impression
Make a real statement with deep blue wood panelling, or striking soft furnishings
Combine pattern, texture and colour for a sense of depth
Copper and gold touches add warmth
Bring a contemporary feeling to the shade with accent colours and quirky touches
You may also be interested in...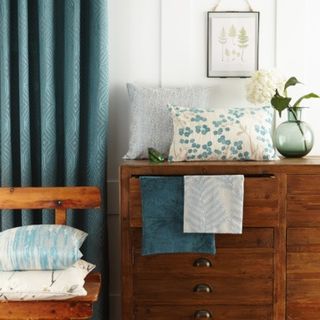 'Jewel: The Edit' has landed. Here, we take a closer look at the lush colour of Jade.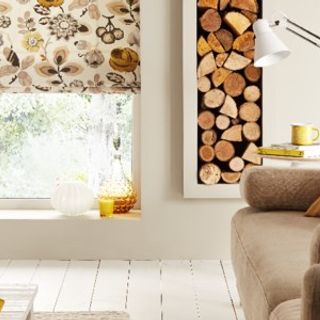 'Jewel: The Edit' has landed. With four colour palettes to choose from, here, we take a closer look at the cheerful shade of Amber.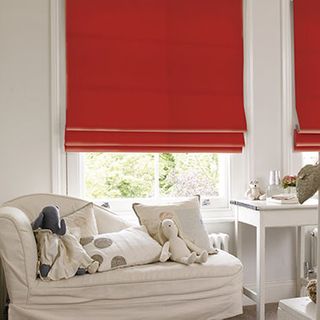 If your space is lacking depth, then a pop of Ruby could be the perfect solution.