Here at Hillarys, we like to stay ahead of all the hottest interior styles. So naturally, we're avid readers of home interest magazines and eagerly await our subscriptions. When they're delivered, the cellophane wrappers are whipped off faster than you can say "breath-taking blinds"!
We're sharing types too though. So if you don't have the time - or budget - to read all of the titles you'd like to, each month we'll be summarising a few selected highlights from our browsing sessions.
Traditionally, March is when we see all of the fresh spring fashions come through. This year, the official start of the season falls on the 20th, but the press are already talking about the designs you'll need in your life.
Flowers are always a popular option for springtime, and 2015 is no exception. As the natural world comes alive outside, it's great to channel this indoors. So it's no surprise that the latest edition of Good Homes included a fabulous floral feature.
Of course, we're big fans of beautiful blooms at Hillarys HQ. Our new Roman blinds and curtains collection shows off a stunning selection of fabrics inspired by nature. For a look that's bang up to date, we'd suggest teaming a floral pattern with stripes.
As the weather brightens up, vibrant colours also come out to play. This season, sunny yellow curtain hues are ones to watch. In Country Homes & Interiors, these were featured on flooring and soft furnishings.
Mustard yellows and chic chartreuses make an appearance in our Romans blinds and curtains range as well. Mustards have a lovely cosy appeal, while chartreuse hues feature a hint of gorgeous green, for a wonderfully zingy impression.
If you prefer classic monochrome schemes to vivid palettes, Period Homes & Interiors had it covered. Their three page spread included lots of lovely ideas for introducing black and white shades to your rooms.
And if you want to be a real fashionista, you could combine both colour trends. In our living room, we teamed deep charcoal greys with a bright accent shade.Take a peek at our short video to find out how to recreate this theme.
You might also be interested in…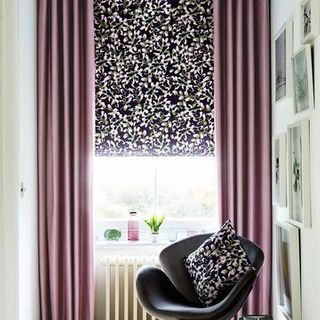 Inspired by the gardens at Kew, the Charlotte Beevor collection features bold, painterly brushstrokes in intensely rich shades.
Yellow is often associated with the summer months, but it's also a fantastic choice to brighten up drab and dreary winter days.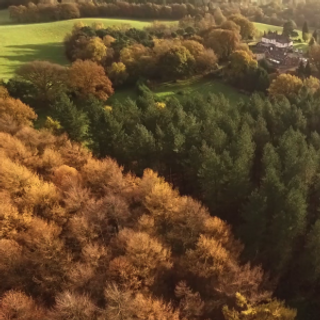 Take a look at our Natur collection of curtains and Roman blinds, inspired by the clean lines and understated style of Scandinavian design.