Traditionally, September is the month when fashionistas indulge in a spot of globe-trotting. The cities of New York, London, Milan and Paris are awash with glittering parties and sensational outfits. As well as influencing the way we dress, the catwalks increasingly determine interior trends.
Here at Hillarys, we love to explore the latest fashions for windows. When it comes to stunning good looks, there's one style that comes out on top. Our striking shutters range  have a sophisticated finish which is sure to wow the crowds.
As well as offering classic elegance, plantation shutters can be used to create a variety of different effects. We've picked out a few of our favourites below, but there are so many more waiting to be explored.
1. Make it individual
Wooden shutters provide a gorgeous focal point wherever they are used. So if you're blessed with a feature window, all the better! They can be made to fit a variety of different shapes and styles, from bays to arches.
2. Make it coastal
Sleek painted shutters lend themselves beautifully to nautical schemes. With the kids back at school, many people will be taking advantage of cheaper holidays. If you fancy channelling a splash of coastal cool in your home, this wonderful white shade is ideal.
3. Make it exotic
Or if you'd prefer to take inspiration from further afield, a dramatic wood stain is the order of the day. In our living room, we picked out these eye-catching Richmond shutters to supply a glamorous backdrop to our Moroccan theme.
4. Make it bright
And for a truly unique impression, you can use the Hillarys custom colour service to match your window shutters to virtually any hue. Here, we plumped for a vivid lime tone to complement our vibrant kitchen.
5. Make it continental
If you'd like to give your décor a chic continental makeover, Cafe Style shutters are just the ticket. They also balance light and privacy perfectly, as they cover the bottom half of the window while allowing lots of lovely sunshine to filter in at the top.
You might also be interested in…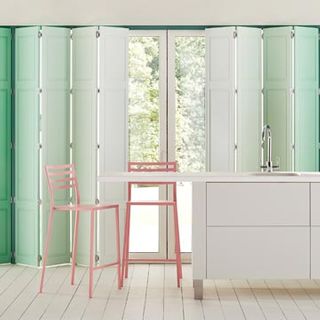 Transform your home into your very own idyllic hideaway with our painted wooden shutters.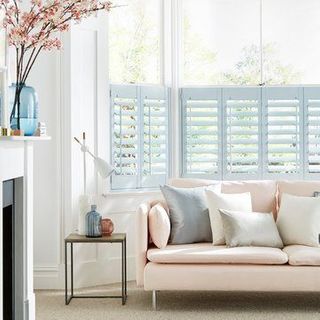 Take a look at the ten deliciously delicate pastel shades in our new and exclusive House Beautiful shutter collection.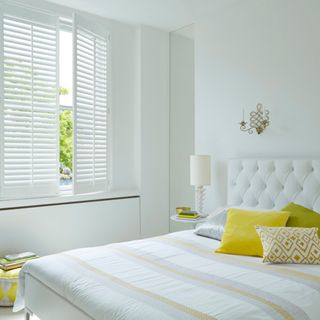 Let us help you embrace bold hues, patterns, and natural materials to transform your home into a tropical oasis.